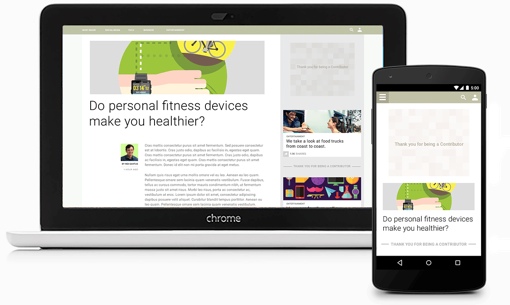 As you're no doubt aware, the Internet is built on a backbone of advertising. Popular services like Twitter, Facebook, Google and more are all free to for us to use because they make their money by displaying ads. Unfortunately, that's had some significantly negative privacy implications – 91% of adults now say they've lost control over how their personal data is collected and used online.
The ad-based formula may work, but its drawbacks are significant. That's why Google is experimenting with a new way to fund the web called Contributor by Google. It allows you to turn off advertisements on some of your favorite websites by paying them small monthly subscription fee (between $1 and $3; you choose how much you pay). The service is currently available on an invitation-only basis; you can request an invitation by visiting google.com/contributor.
It's not clear yet exactly how much of your monthly contribution will go to support the sites of your choice – Google is likely taking its own cut for facilitating the program. Still, even a token donation is likely to provide a site with more financial support than clicking on an ad or two.
At launch, Contributor by Google has partnered with a number of popular sites including Urban Dictionary, The Onion, Science Daily, WikiHow, Mashable and Imgur. More will almost certainly be added with time. When you support one of these participating sites, advertisements will be replaced with pixelated patterns that thank you for your contribution.
This is a pretty bold experiment given Google's size and scope, but to be fair, Google is hardly the first to come up with the idea. Reddit offers its members the ability to turn off ads (and other benefits) with a $3.99 monthly subscription to Reddit Gold. TheNextWeb also offers an ad-killing pro subscription service for $3 per month or $30 per year.