Keeping your online accounts secure can be a complicated endeavor. You're supposed to have unique passwords for every account, which are at least eight characters long and include alphanumerics. And while most of us have heard this standard security advice, we don't always follow it. Creating strong passwords is challenging, and keeping track of them is well beyond the average person's memory.
That's why we recommend using a password manager to securely store your passwords. But even that can be a challenge, because it's time-consuming to enter every password for every site, and you may not even remember all the accounts you've created over the years. Then there's another problem: while a good password manager can help you come up with strong passwords for every online account and keep track of them, it won't protect you from being hacked. Data breaches are increasingly common, so it's all too easy to find your passwords in the hands of hackers even if you follow every security precaution. Websites like haveibeenpwned.com will let you search to see if any of your accounts have been compromised, but it's a manual process that most of us probably don't bother with.
That's what makes the new Inbox Security Scan feature in the Dashlane password manager so handy. It sorts through your inbox to find every account you've created with that email address and checks them against websites that have been compromised — and that's a feature we haven't seen in any other password manager. That makes finding compromised accounts just a few clicks away. And once you've found compromised accounts, Dashlane can change them for you with its Password Changer, then save those passwords for when you need them. When you visit a website, Dashlane will even enter your password for you — which makes keeping your accounts secure easy.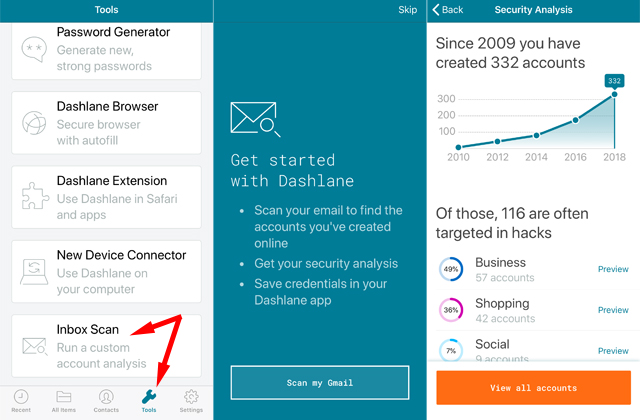 There are a few caveats, however. The feature is currently only available on Dashlane's mobile app (though your saved passwords can be used on your desktop as well), and it's limited to just a few email providers at present. On iOS, it only works with Gmail, while on Android it works with Gmail, Outlook, Hotmail, MSN and Live.com.
Even if your email service isn't on that list, Dashline is the best choice for keeping track of your passwords. It's our favorite password manager because it couldn't be simpler to use. Dashlane is completely free for use on one device, or $3.33 per month to use (and sync) across all of your devices.
[Image credit: computer login concept via BigStockPhoto, Dashlane]