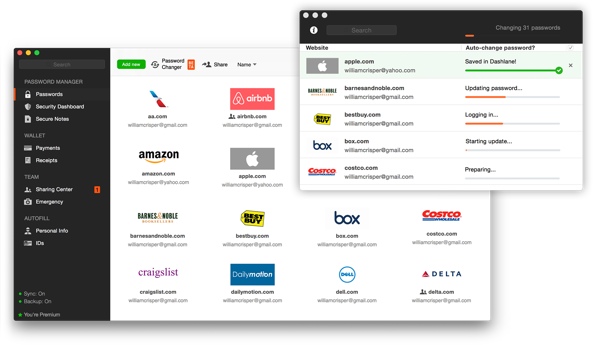 One of my biggest frustrations with the Internet these days is how insecure our passwords have become. Major websites like eBay and AOL were both attacked earlier this year, potentially exposing all our personal data (including login information) to the bad guys. And, of course, software vulnerabilities like Heartbleed keep surfacing too. If you're the type to reuse passwords on different sites, one hacking or vulnerability could lead to most of your accounts being hacked, all at once.
Thankfully, there's now an easy way to respond to these security crises: password management apps. This week, the popular Dashlane and LastPass apps both got a new feature that allows you to change almost all of your passwords automatically with the click of a mouse – even those with two-factor authentication. The features currently support 75 of the most popular sites across the web, including Facebook, Twitter, Gmail, Amazon, Skype and more.
Password management apps like Dashlane and LastPass keep you safe by automatically generating random, difficult-to-crack passwords for all your online accounts. These randomized passwords are heavily encrypted and locally stored on your mobile device and computer. When you visit a site online, the apps autofill your password and username for you. No more memorization; no more passwords scrawled out on post-it notes stuck to your computer monitor.
Both of the apps' mass password change features are currently in beta. LastPass's Auto-Password Change feature is available in beta to all users for free on Chrome, Safari and Firefox (starting with version 3.1.70). To get access to Dashlane's more robust all-at-once Password Changer, you'll need to specially request early access via the company's website and do a little bit of waiting or sharing on social media.
The basic versions of Dashlane and LastPass are both available for free. To access the best features, though – including the important ability to sync between devices – you'll need to pay for the premium versions. A year of Dashlane Premium will set you back $39.99 per year; the premium version of LastPass costs $12 per year. You can learn more by visiting dashlane.com and lastpass.com, or by downloading the respective apps on the Apple App Store and Google Play.