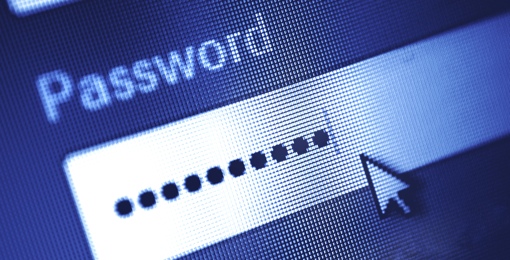 This year's Heartbleed security scare really highlighted the importance of creating strong, unique passwords that are hard to for every site you visit. While some websites have upped their required level of password security since, a newly released Dashlane Security Report suggests a number of big name companies are lagging behind with outdated, unsafe password policies.
According to Dashlane, there are six factors that go into a strong password policy: a long minimum password length, requiring the use of letters and numbers, an on-screen password strength meter, sending password change confirmation emails, locking out accounts after 10 unsuccessful logins and not allowing common words like "password" to be used as your password. Dashlane's Security Report assigns a security score based on how many of these factors come into play when creating passwords for the net's 83 most popular sites. You can see a breakdown of the score for each site in its Roundup Results chart.
Of the companies researched, only Apple received a perfect security score of 100. Windows Live (85), UPS (75), Microsoft Store (75), Kapersky Lab (70) and Target's e-commerce site (70) all received excellent scores as well.
Match.com, meanwhile, came in at the absolute bottom of the security study with a "security score" of negative 70. That's due in part to the fact the site allows one-character passwords. Hulu (-55), Overstock (-55), Fab (-50) and Amazon (-45) all fell at the absolute bottom of the survey. That suggests a number of accounts on these sites are vulnerable to brute force password attacks.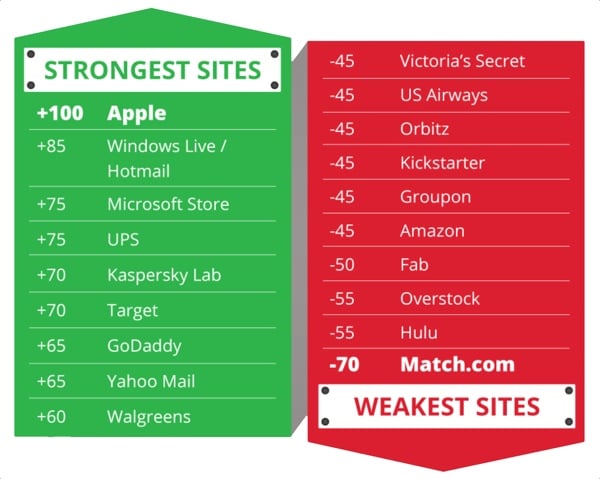 Of course, just because a company has a weak password policy doesn't mean you should feel OK with creating a weak password for the site. Techlicious recommends you check out these 5 tips for creating strong passwords.
Here is the full list of website security scores from the Dashlane report:
| | | | | | | | | | |
| --- | --- | --- | --- | --- | --- | --- | --- | --- | --- |
| Website | Category | Security Score | Rank | Minimum Password Length | Alphanumeric Password Mandatory | On-screen Password Strength Meter | Password Change Confirmation Email | Account Lockout after 10 Incorrect Logins | Allows 'password' as Password |
| 1800Flowers | E-commerce | -37.5 | 69 | 1 | N | N | N | N | N |
| Airbnb | Travel | -40 | 70 | 5 | N | N | N | N | Y |
| Amazon | E-commerce | -45 | 74 | 6 | N | N | Y | N | Y |
| American Airlines | Travel | -20 | 47 | 6 | N | N | Y | Y | Y |
| AOL | Social Utilities | 15 | 29 | 6 | N | Y | Y | Y | N |
| Apple | E-commerce | 100 | 1 | 8 | Y | Y | Y | Y | N |
| AVG | Internet security | -30 | 57 | 6 | N | N | N | Y | Y |
| Avira | Internet security | -30 | 57 | 5 | N | N | N | Y | Y |
| Basecamp | Productivity utilities | -42.5 | 73 | 6 | N | N | N | N | N |
| Best Buy | E-commerce | 35 | 17 | 10 | N | Y | Y | Y | N |
| Bitdefend | Internet security | -40 | 70 | 6 | N | N | N | N | Y |
| BlackPlanet | Dating | -17.5 | 46 | 6 | Y | Y | N | N | N |
| Booking.com | Travel | 12.5 | 30 | 8 | N | Y | N | Y | Y |
| BullGuard | Internet security | -25 | 51 | 8 | N | N | N | Y | Y |
| Christian Mingle | Dating | 25 | 22 | 8 | Y | N | Y | Y | Y |
| Craigslist | E-commerce | 20 | 27 | 8 | N | N | N | Y | N |
| CVS | E-commerce | 25 | 22 | 7 | Y | N | Y | Y | N |
| Dell | E-commerce | 22.5 | 26 | 6 | Y | N | Y | Y | N |
| Delta | Travel | -32.5 | 62 | 6 | N | N | Y | N | Y |
| Dropbox | Productivity utilities | -15 | 43 | 6 | N | Y | Y | Y | Y |
| eBay | E-commerce | 30 | 19 | 6 | Y | Y | Y | N | N |
| eHarmony | Dating | -25 | 51 | 8 | N | N | N | N | Y |
| Etsy | E-commerce | -20 | 47 | 6 | N | N | Y | N | Y |
| Evernote | Productivity utilities | -25 | 51 | 6 | N | Y | Y | N | Y |
| Expedia | Travel | -35 | 64 | 6 | N | N | Y | N | Y |
| Fab | E-commerce | -50 | 80 | 1 | N | N | N | N | Y |
| Facebook | Social Utilities | 10 | 31 | 6 | N | N | Y | Y | N |
| Gap | E-commerce | -25 | 51 | 5 | N | Y | Y | Y | Y |
| Gmail | Social Utilities | 25 | 22 | 8 | N | Y | Y | N | N |
| GoDaddy | Productivity utilities | 65 | 7 | 9 | Y | N | N | Y | N |
| Groupon | E-commerce | -45 | 74 | 6 | N | N | N | N | Y |
| GrubHub | Social Utilities | 7.5 | 32 | 8 | N | Y | Y | N | N |
| Home Depot | E-commerce | -20 | 47 | 5 | N | N | Y | Y | Y |
| HootSuite | Productivity utilities | -15 | 43 | 6 | N | Y | N | Y | Y |
| Hotels | Travel | 2.5 | 36 | 6 | Y | N | N | N | N |
| HP | E-commerce | -40 | 70 | 6 | N | N | N | Y | Y |
| Hulu | Social Utilities | -55 | 81 | 6 | N | N | N | N | Y |
| JCPenney | E-commerce | -12.5 | 42 | 6 | N | N | N | Y | N |
| JDate | Dating | -35 | 64 | 4 | N | N | Y | N | Y |
| JetBlue | Travel | -2.5 | 40 | 8 | N | N | N | N | Y |
| Kaspersky Lab | Internet security | 70 | 5 | 8 | Y | N | Y | N | N |
| Kayak | Travel | -32.5 | 62 | 6 | N | N | Y | N | N |
| Kickstarter | Social Utilities | -45 | 74 | 6 | N | N | Y | N | Y |
| Kmart | E-commerce | 17.5 | 28 | 6 | Y | N | N | Y | N |
| LinkedIn | Social Utilities | 0 | 37 | 6 | N | N | Y | N | N |
| LivingSocial | E-commerce | -35 | 64 | 6 | N | N | Y | N | Y |
| Lowe's | E-commerce | 5 | 33 | 6 | Y | N | Y | N | N |
| MailChimp | Productivity utilities | 27.5 | 21 | 6 | Y | N | Y | Y | N |
| Match.com | Dating | -70 | 83 | 1 | N | N | Y | N | Y |
| McAfee | Internet security | 35 | 17 | 8 | Y | N | Y | Y | N |
| Microsoft Store | E-commerce | 75 | 3 | 8 | Y | N | Y | Y | N |
| Moz | Productivity utilities | -30 | 57 | 5 | N | N | Y | N | Y |
| Nike | E-commerce | 50 | 10 | 8 | Y | N | N | N | N |
| Nordstrom | E-commerce | 30 | 19 | 7 | Y | N | Y | Y | N |
| Norton | Internet security | 5 | 33 | 6 | N | N | Y | Y | N |
| OkCupid | Dating | -35 | 64 | 5 | N | N | Y | N | Y |
| Orbitz | Travel | -45 | 74 | 6 | N | N | Y | N | Y |
| Overstock | E-commerce | -55 | 81 | 5 | N | N | N | N | Y |
| Panda | Internet security | -25 | 51 | 6 | N | Y | Y | N | Y |
| PayPal | Productivity utilities | 50 | 10 | 8 | Y | N | Y | Y | N |
| Pinterest | Social Utilities | 0 | 37 | 6 | N | N | Y | Y | N |
| Priceline | Travel | 37.5 | 15 | 8 | Y | Y | N | Y | N |
| Salesforce | Productivity utilities | 40 | 13 | 8 | Y | Y | N | N | N |
| Skype | Social Utilities | 37.5 | 15 | 6 | Y | Y | Y | Y | N |
| Southwest | Travel | -30 | 57 | 6 | N | Y | N | N | N |
| Staples | E-commerce | -15 | 43 | 6 | N | N | Y | Y | Y |
| StubHub | E-commerce | 40 | 13 | 8 | Y | Y | Y | N | N |
| Target | E-commerce | 70 | 5 | 8 | Y | N | Y | Y | N |
| Ticketmaster | E-commerce | -35 | 64 | 5 | N | N | Y | Y | Y |
| Toys"R"Us | E-commerce | 50 | 10 | 8 | Y | N | Y | N | N |
| Travelocity | Travel | -30 | 57 | 6 | N | N | Y | N | Y |
| Twitter | Social Utilities | 0 | 37 | 6 | N | Y | Y | N | N |
| United Airlines | Travel | 25 | 22 | 8 | Y | N | N | N | N |
| UPS | Productivity utilities | 75 | 3 | 8 | Y | N | Y | Y | N |
| US Airways | Travel | -45 | 74 | 5 | N | N | N | N | Y |
| Victoria's Secret | E-commerce | -45 | 74 | 4 | N | N | N | Y | Y |
| Walgreens | E-commerce | 60 | 9 | 8 | Y | N | Y | Y | N |
| Walmart | E-commerce | -25 | 51 | 6 | N | N | Y | Y | Y |
| Windows Live/Hotmail | Social Utilities | 85 | 2 | 8 | Y | N | Y | Y | N |
| Yahoo Mail | Social Utilities | 65 | 7 | 8 | Y | N | N | Y | N |
| Zappos | E-commerce | -20 | 47 | 6 | N | N | Y | Y | Y |
| ZocDoc | Social Utilities | 5 | 33 | 6 | N | N | N | Y | N |
| Zoosk | Dating | -2.5 | 40 | 8 | N | N | N | N | Y |
[Password Box via Shutterstock; Dashlane Security Report Infographic via Dashlane]