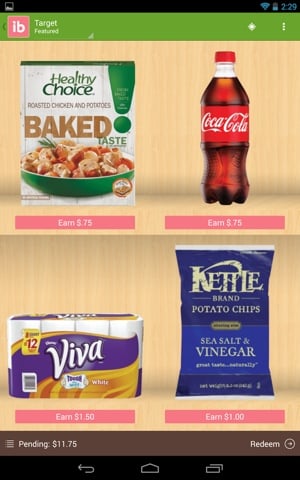 When I was going to college, I helped stretch my dollars at the supermarket by becoming a coupon king. I don't really have the time to sit down and thumb through the Sunday paper anymore, but it's hard to fall out of love with saving money. And that's why I've grown to love Ibotta, a new money-saving app that's become something of a viral hit.
Ibotta is a modern-day replacement for the Sunday newspaper's coupon section – or better yet, a supplement to it. Just download the app and sign up through Facebook, Google+ or email. Once Ibotta knows your zip code, it'll provide you with cash-back offers to nearby supermarkets, big box retailers, drugstores and restaurants, including Target, Home Depot, Lowes, CVS, Walgreens, Whole Foods, Stop & Shop, Chili's and Burger King.
To earn money using Ibotta, you're required to perform certain simple tasks that differ from item to item. For example, you can currently earn up to 75 cents back when you buy veggie burgers by reading a recipe (25 cents), watching an ad (25 cents) and answering a trivia question (25 cents). You can pick and choose what you want to do. Once you've completed the tasks and bought the item, you'll need to take a picture of the receipt with your phone and the Ibotta app to collect your bounty. Some stores let you link their loyalty card to your Ibotta account, letting you skip the photo so you can collect instantly.
After you've earned $5, you can cash out by linking the Ibotta app to your PayPal account. Money can build up fast with Ibotta, especially given the larger meta bonuses the app offers. New users, for instance, can get an extra $10 for redeeming 2 offers in the first 2 weeks.
Ibotta is a free download for iOS devices via the Apple App Store and for Android via Google Play. If you'd like to learn more about Ibotta, check out the company's website.
[shopping with phone via Shutterstock]