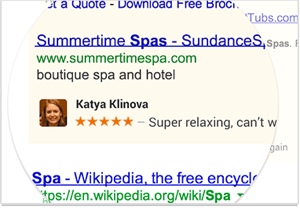 Are you a fan of the Google+ social network? Do you rate businesses in Google Maps or Google Play apps on the provided 1- to 5-star scale? If so, watch out: Starting November 11, Google will begin promoting your social actions in advertisements using your name and likeness.
Google calls the feature Shared Endorsements. You may have seen these before when performing searches if a friend +1'd a local restaurant or news article. Soon however, these Shared Endorsements will start appearing in advertisements like the one for Summertime Spas at the right.
"To help your friends and others find cool stuff online, your activity (such as reviews, +1s, follows, shares, etc.) may be used along with your name and photo in commercial or other promotional contexts," explains Google in an a post on its official blog. "The name and photo shown in shared endorsements are the public profile name and photo you have chosen on Google+."
If this news sounds familiar, it is – in August, Facebook changed its Data Use Policy to give the company wide-reaching permission to use you (and your underaged child's) photos and name in ads on the site. Facebook quietly scrubbed language affirming your right to opt out, potentially running afoul of government regulation. The Facebook change has been put on hold for further review.

Again, the Google change goes live on November 11, 2013. If you want to protect your privacy and opt-out of being used in Google ads, you'll need to visit your Shared Endorsements page on Google+. Scroll down to the checkbox at the bottom, and make sure it's unchecked. (Tricky, tricky, Google.) And while you're at it, here are 5 other Google privacy settings you should check.