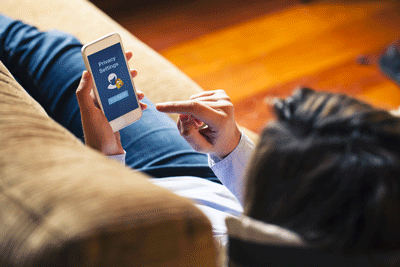 A new survey released by Experian — one of the three main credit bureaus — shows that while people care about maintaining their privacy online, many of them aren't doing enough to stay safe.
In a survey Experian conducted last September, the company asked 1,002 adults in the United States about their use of technology. 83 percent of the participants said that technology enhanced their daily lives, with 51 percent of them saying it allows them to connect with loved ones and 50 percent saying it allows them to access education and knowledge. In fact, 80 percent of them would become even more connected if possible.
Unfortunately, while most agree that technology makes our lives better, Experian found that we're not taking our security into account while using it. When it comes to privacy policies, only 28 percent review them before downloading a mobile app, and only 36 percent read the policy if it's updated.
Despite 71 percent of people saying they're concerned about becoming a victim of identity theft in the future, there are a lot of simple steps many aren't taking to protect themselves. Half of the respondents don't keep their devices password-protected because it's a hassle or they don't believe it's necessary. And 15 percent keep a written record of passwords and PINs in their purse or wallet or on a mobile device or computer.
Yikes! That doesn't bode well for our security. Especially as the Department of Justice estimated that 17.6 million Americans were identity theft victims in 2015. Fortunately, there are easy ways to keep your data secure.
1. Make sure to keep your devices updated with the latest software. Companies often release incredibly important patches and bug fixes in their updates, so keeping your software up-to-date is critical for your security.
2. Change your passwords often, and have different passwords for each account. Password vaults, like Dashlane and LassPass make it easy to change your passwords and create new secure one. If you're still using "password" to log in, that's a problem.
3. Be wary of public Wi-Fi networks. Make sure you know the name of the network you're supposed to connect to and always connect to websites with HTTPS in the address instead of just HTTP, which encrypts all the data you send and receive while using the site. We've got more here.
4. Enable two-factor authentication for your accounts. You're making it that much more difficult for someone to take your info when they need a special one-time code that's only accessible by a device you own, in addition to your password.
5. Check your bank accounts and credit scores at least once a month. If you catch someone who's managed to gain access to your information early, it's easier to take the necessary steps to get your accounts back.
We have more info for you on the steps to take if your email or another account is compromised. And if you are a victim of identity theft, the FTC has a new website that creates a free and personalized step-by-step recovery guide that takes care of the hard work for you.
[Woman adjusting privacy settings via Shutterstock]