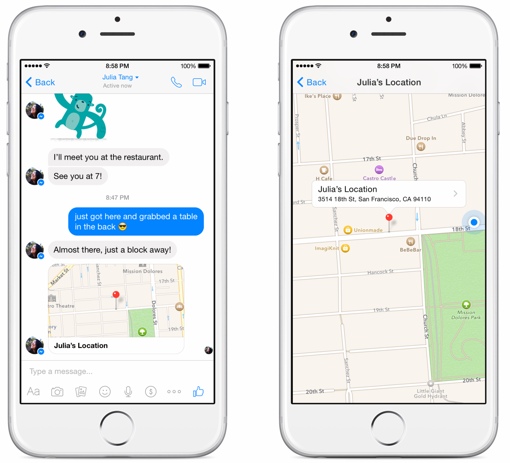 One of Facebook's most intrusive features is on the way out. TechCrunch is reporting that Facebook has scrapped its always-on location-tracking feature in favor of more useful and limited ways to share your current location with your friends and specific people through Messenger.
One new location sharing feature, rolling out now to Messenger for Android and iOS, is the pin button. It's located in the three dot More drawer at the bottom of your screen while inside a conversation thread. Tap it, and you'll bring up a map with your current location appearing as a pin. You can then share that location via Messenger with another tap.
But that's not all – the new feature also lets you move the pin so you can share the exact GPS location of a local business or alternate address. It's a great idea for meetups: You can easily share a restaurant's location with friends before making reservations, or share where your car just broke down with a family member. It seems to be a much simpler sharing process than trying to accomplish the same tasks with the Google Maps app.
For Facebook, this new feature is only the beginning. "What we're launching is the foundation of everything that's coming," Messenger Head of Product Stan Chudnovsky told TechCrunch. These cool coming new features could make it easier to find friends who are out and about looking for something to do – and actually better connect you with people you know in the real world. It's something we'll definitely be keeping an eye on here at Techlicious.
For more information on how to control other people's access to your physical location, status updates and other personal data, take a look at our recently updated Complete Guide to Facebook Privacy Settings.
[Image credit: Facebook]