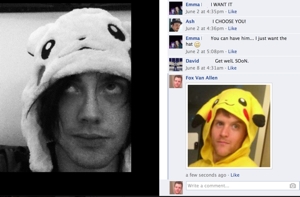 Just a week after Facebook finally unleashed hashtag functionality, the world's largest social network has begun rolling out another long-awaited feature: The ability to comment using pictures.
To reply to a status update or other Facebook content with a picture, simply click the camera icon located in the box where you normally enter comments and choose the image you want to reply with. It really is that simple.
For now, the feature is only available on the desktop version of the site. You can't reply with pictures using the Facebook app (yet!), but you will be able to view picture replies. And there is an unfortunate limitation to picture replies: You can't reply using animated GIF files. That's a pretty big omission, but one we hope will be addressed at some point.
Before you go putting your pretty face all over Facebook in comment form, it's important to remember that your default privacy settings for comments may be different than your default privacy settings for uploaded images. If you don't want total strangers being able to see the pictures you're uploading and replying with, be sure to check out our comprehensive guide to Facebook privacy settings.