Facebook doesn't have the best reputation for protecting its users' personal information. But according to Mark Zuckerberg, "the future is private" and big changes are coming to Facebook. Considering the company allowed access to the profiles of millions of users — due lax privacy policies, bugs and exploits — that's welcome news.
Facebook's privacy focus is more than we've seen from the company lately, but it may be less than you'd hoped for. An upcoming site redesign will make it easier for users to find groups and send private messages, so users may not post as many public messages. Messenger is also getting end-to-end encryption to stop eavesdroppers in their tracks, but the feature isn't coming any time soon. The company hasn't announced changes to how it collects and shares data, or any new ways to secure your profile.
But even if you're disappointed with these slim privacy protections, Facebook is overhauling itself to make it easier to to chat with your friends — and make new ones. Let's check out everything that's coming to Facebook soon.
An all-new Facebook interface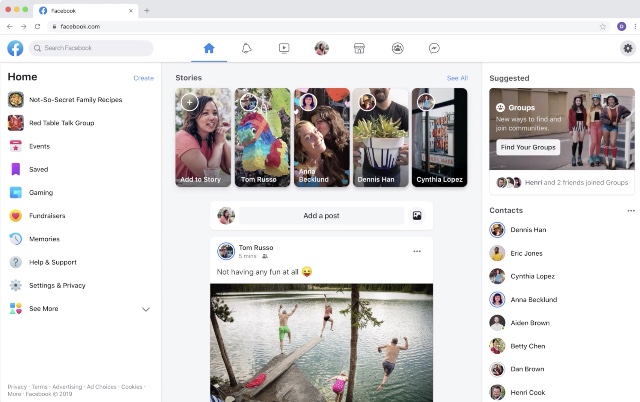 Regardless of new privacy safeguards, changes are definitely coming to Facebook, because it's getting a big cosmetic overhaul. Facebook's new look is clean and bright, with a dark mode for those who prefer it. The drop down menus along the top of the page are gone, replaced by tabs that send you to the places you're most likely to go: news feed, notifications, groups, messages, videos, marketplace, and your own profile page.
The updates make Facebook much easier to navigate, particularly for groups and messages, which are much more prominent. It's part of a new focus on private conversations: encouraging friends, families, and individuals with shared interests to chat in private groups or messages rather than posting everything publicly.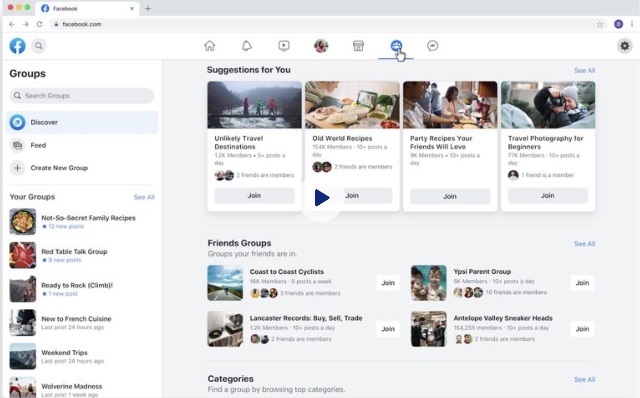 And to keep your Facebook experience fun, the company is rolling out a new AI to moderate the site. The AI uses what's called "self-supervised learning" to quickly find hate speech, scams, abuse, violence, fake accounts, bullying and other bad behavior. This kind of content can be anything from mildly unpleasant to outright dangerous, and it's great that Facebook is looking for solutions to get rid if it. However, AIs don't always make for reliable moderators, so we'll have to see how well this self-taught AI moderation tool works. Hopefully, it will help make the site a more pleasant place.
If you're wondering why your news feed still looks the same, it's because the redesign hasn't rolled out yet. Look for these updates in the coming months.
Facebook app updates are live now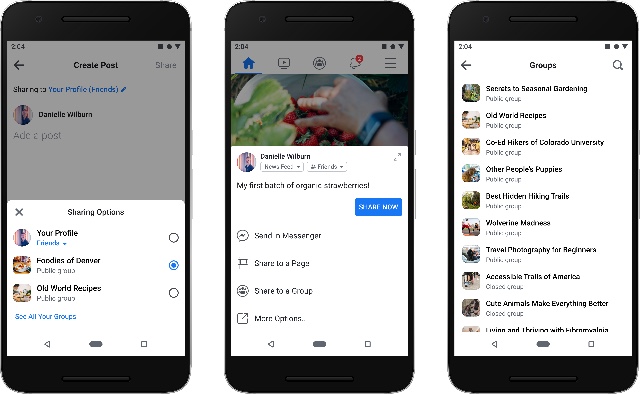 Beyond updating the website, the Facebook app and Messenger app have both been updated with a similar design. Both have a streamlined new interface with a simple row of tabs along the bottom of the screen to quickly navigate. Like the Facebook website, the Facebook app has a bigger focus on private groups, making it easier to find and browse groups, as well as chat and share in groups.
While Messenger has a cleaner look, its best features are yet to come. We mentioned that end-to-end encryption will be added to the app, but eventually, Messenger will be able to send messages to WhatsApp and Instagram as well. Making chatting seamless across all of Facebook's apps will help bring friends together, regardless of which social platform they use. The only downside is that we don't know when this feature will be added, as the company didn't offer an ETA.
These redesigns are available for Android and iPhone now — just update your app to the latest version to enjoy the new look.
Make friends and find dates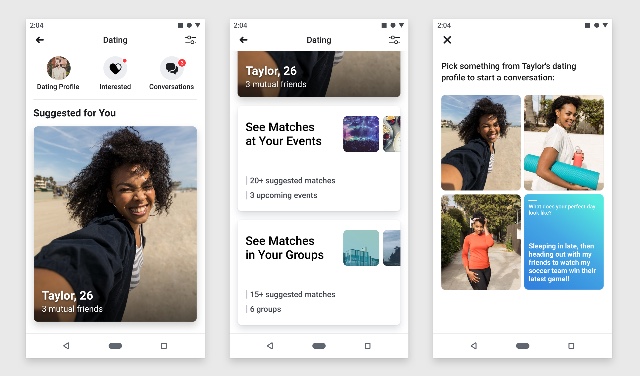 Despite the focus on private conversations, Facebook definitely encourages you to socialize. The site is adding a Meet New Friends feature that suggests people you might get along with based on shared interests, groups, or location. This may sound like another way for Facebook to invade your privacy, but the feature is completely opt-in. If you want to meet people through Facebook, you'll have to turn the feature on and you'll only see people who have also turned it on.
If you're looking for more than friends, there's also Facebook Dating. It's very similar to Meet New Friends: you'll have to enable it manually, and you'll only see other users who have enabled it. To use it, you'll have to create a dating profile, but don't worry, because it won't be part of your public profile.
A feature called Secret Crush rounds out Facebook's suite of friend-finding features. This lets you select up to nine friends that you have a secret crush on, and if they also select you, your crush will be revealed. Unless the feeling is mutual, no one will know you've made a list of crushes on Facebook. It's completely anonymous, and only available if you've already signed up for Facebook Dating.
If you aren't interested in finding friends (or dates), these new features won't be enabled by default, so they're easy to ignore. Whether you're interested in Facebook Dating or not, updates to the Facebook apps and websites make them much easier to use. If you use Facebook, there's something you'll like in this overhaul — so update your apps and check it out!
[Image credit: Facebook]