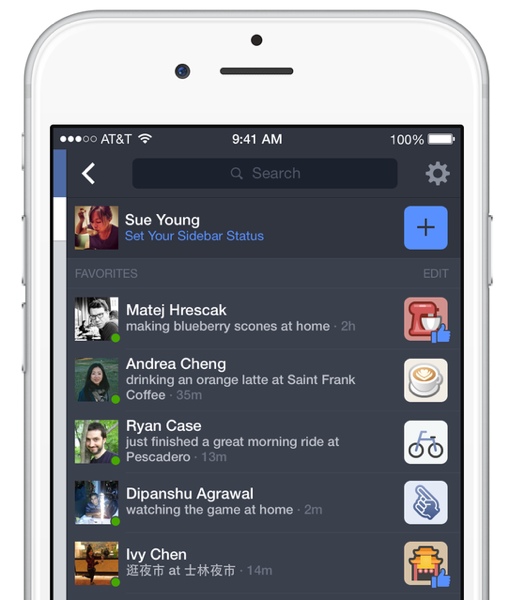 A neat new feature has just arrived for a handful of users of the Facebook Messenger chat program. Today, Messenger launched a new feature for some users called "Sidebar Status," a short blurb of text you write, viewable by your Messenger user friends, that appears immediately below your name in the sidebar. The purpose of Sidebar Status messages is to provide friends with information about what you're immediately up to without having write a formal update on your News Feed.
The feature, being tested in Taiwan and Australia to start, is reminiscent of the old away messages made popular by AOL Instant Messenger. Sidebar Status messages can be accompanied by a tiny picture icon you choose (there's a stand mixer icon if you're away baking, for example) and your physical location if you want to share it. These messages last for 12 hours and are viewable by your friends by default, though you can control exactly who sees them via your Facebook privacy settings. Close friends will see your name and sidebar message near the top of their Messenger list, similar to how names were listed prior to this update.
Facebook believes the new feature will help people better connect to what their friends are doing. "People were having a difficult time staying in touch with their friends and seeing what they're doing on a daily basis," says Facebook Product Manager Sue Young. "Now, when I visit the sidebar, I can get an instant pulse of what all my friends are doing."
For now, there are no specific plans or timeframe for Facebook to roll out Sidebar Status messages to all users. But if this early tests proves successful, Young says she has hope it will rollout site wide. You can read more about this new feature by reading coverage at The Verge.
[Image credit: Facebook]