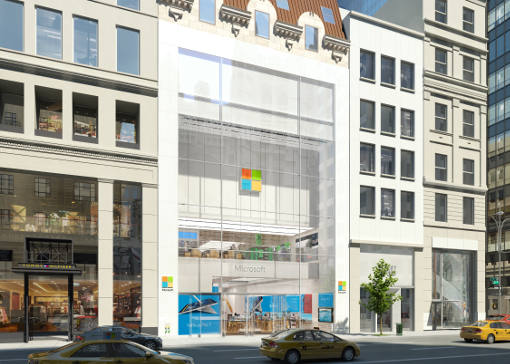 Microsoft finally cut the ribbon on its massive flagship retail store in the middle of Manhattan in a grand opening event that mirrored Apple's retail culture. Located at Fifth Avenue and 53rd Street, just five blocks from the Apple Store, the new Microsoft retail store is the company's largest to date. The five-floor building offers 22,369 square feet of retail space showcasing Microsoft products and services and giving customers hands-on time with Microsoft products.
The ground floor of the store features Microsoft products, devices and services including the Microsoft Surface series, Lumia, Band, Signature Edition PCs, Xbox One, Office and accessories.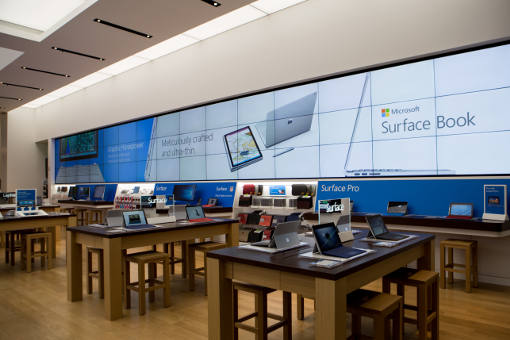 Unlike the Apple store, which showcases only its own products, the Microsoft store also hosts third-party products. If you're looking for Windows devices, especially the latest models, the flagship store is likely to have more stock than other Microsoft stores. The Dell Experience on the third floor showcases Dell products such as the XPS, Inspiron and Precision series of computers, as well as Alienware gaming computers, all of which use Microsoft technology. Products from Lenovo, ASUS, LG, Toshiba and HP are also on display.
Devices on display are not tethered by security cables, so customers can fully try out the devices as if they were using them at home. The store relies on heavy security in order to provide that kind of flexibility.
The Answer Desk, Microsoft's version of Apple's Genius Bar, helps customers with technical issues, troubleshooting and repairs no matter where customers purchased their devices. The Answer Desk can also assess devices for Windows 10 upgrades, check devices for problems, troubleshoot and repair misbehaving software, remove malware and viruses, tune up computers and more — for free.
Near the Answer Desk is the Community Theater, where you can see humongous Windows touchscreen plasma displays for use in training sessions, community activities and in-store events.
Immersive hi-definition video walls and digital signage dazzle customers throughout the new flagship facility, such as the attention-grabbing video wall two stories high that can be seen from the first or second floor — with directional surround sound, no less. A 40-foot by 20-foot culture wall outside the store showcases noncommercial digital art.
Looking for more information about Microsoft's newest laptop? Read our post about the Microsoft Surface Book and Surface Pro 4. Also follow our coverage of everything about Windows 10.
[Image credit: Microsoft]