Most people have an online presence that's not too difficult to find through Google Search. However, when it comes to personal information, like your home address and phone number, you may want to keep that private, and in some cases, it's a matter of personal safety.
In the past, you had to provide Google proof of a threat of harm from activities like ID theft or doxxing before they would consider preventing your personal information from appearing in Google Search. Now, no evidence of a threat is needed to remove pages with your physical address, phone number, and email address. You just need to fill out a form to request to remove your personal information from Google Search.
The process of submitting your request for removal is straightforward. You'll need the URL of the page that contains your personal information, a screenshot of the page you are reporting, and the URL of the Google Search results page that includes the link to the page you are reporting. You can report image URLs as well as webpage URLs. So if someone posted a picture of contact information, you could have search results with the image removed.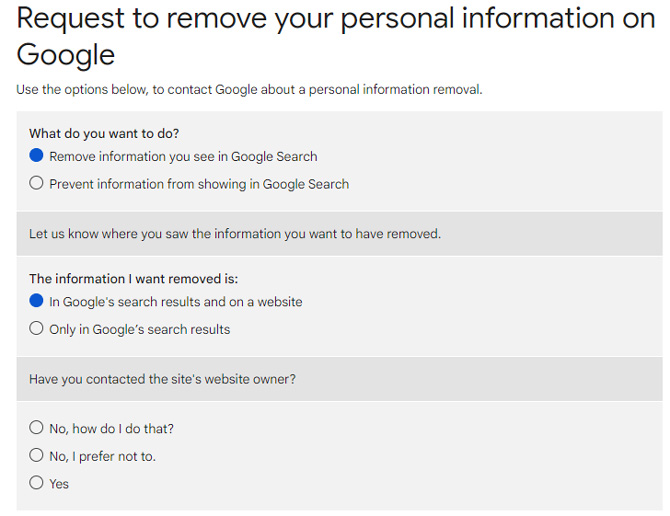 If a URL is approved for removal, one of two things will happen: 1) Google will prevent the URL from appearing in any Search query or 2) Google will limit the URL from appearing in any search query that specifically contains your name or personal identifier. In the second case, the page may appear "when the policy violating information on a page is accompanied by content that is of public interest or has content about other individuals," according to the Google. In other words, for example, a reported directory listing page won't appear in search results if people search for your name, but it will appear if someone searches for another name that is listed on the page.
The process to remove your information from Google doesn't remove the actual page or image from the site you are reporting. It also doesn't remove you from people search services (see our story on How to Remove Yourself from People Search Directories). So a person could still find the page by using another search engine like Bing or DuckDuckGo to search your name. However, with Google having 92 percent market share, according to StatCounter, removal from Google Search goes a long way.
[Image credit: Woman using computer with screenshot of Google URL removal form via Techlicious/Google/Smartmockups]
For the past 20+ years, Techlicious founder Suzanne Kantra has been exploring and writing about the world's most exciting and important science and technology issues. Prior to Techlicious, Suzanne was the Technology Editor for Martha Stewart Living Omnimedia and the Senior Technology Editor for Popular Science. Suzanne has been featured on CNN, CBS, and NBC.