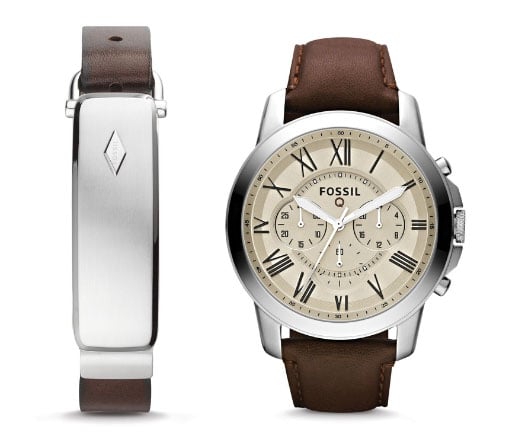 In a bid to make inroads into the smart wearables market, traditional timepiece and accessories maker Fossil has unveiled its first line of connected accessories. The new line is spearheaded by the Fossil Q Founder, its flagship smartwatch.
The $275 Fossil Q Founder smartwatch blends fashion and function in a traditionally styled watch with a full touchscreen display. Powered by an Intel processor and running the Android Wear operating system, the Q Founder can track your fitness activities, check your mobile device notifications and remind you to vary your activities for a healthier routine.
With a swipe and a tap of its touchscreen display, you can easily change watch faces to match your mood or personality.
Fossil hasn't announced exactly when the Q Founder will be available for purchase but assures buyers it will be ready for holiday shopping.
Another Fossil smartwatch, the Fossil Q Grant, looks like a regular watch but can track and monitor your fitness level and provide phone notifications via vibration and LED lights on each side of the watch. Assign unique notification colors to contacts so you'll know at a glance who's calling. The Fossil Q Grant costs $175 to $199 and will be available starting Oct. 25.
Also available in retail stores on Oct. 25 are Fossil's two smart bracelets, the Q Reveler and the Q Dreamer. These $125 smart bracelets help you track fitness activities and levels and notify you of phone activity through vibration and LED light notifications. Each bracelet offers customizable wristbands.
Powered by Intel chipsets, the Fossil Q series of smart wearables can pair via Bluetooth with devices running at least Android 4.3 or iPhones running at least iOS 8.2. They come with wireless charging stations.
Looking for other activity tracker options? Find out which activity tracker is best for you, including those under $50. If watches are your thing, find out more about the ASUS ZenWatch 2, the Apple Watch, the second-generation Moto 360 smartwatch and other feature-filled smartwatches.
[Image credit: Fossil]