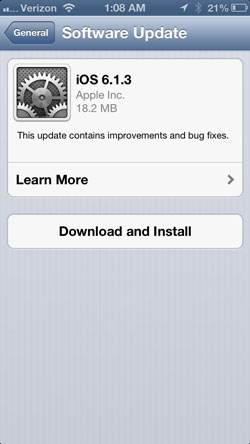 If you've got an iPhone sitting in your pocket, you might want to get it out – Apple has just released iOS 6.1.3, an essential security update to its iPhone operating system.
Apple's iOS 6 has been under fire lately for its security flaws. People have found ways to glitch the software's numerical passcode lockout, allowing a crafty and persistent snoop the ability to enter any iPhone with ease. This update immediately closes this security gap.
If you haven't downloaded the update yet, you should get it as soon as possible to protect your data. Downloading and installing can be done from anywhere. Just tap on your Settings icon, and in the new menu, choose General. Then choose Software Update. You'll be offered a Download and Install button to tap. If you've already installed the update, you'll instead be greeted with a message saying, "your software is up to date."
You should make it a habit of plugging your phone in before doing any updating to prevent any unnecessary risk to your device. You may also want to wait until you are connected to a WiFi network to download the 18.2 MB update to avoid possible cell data charges.