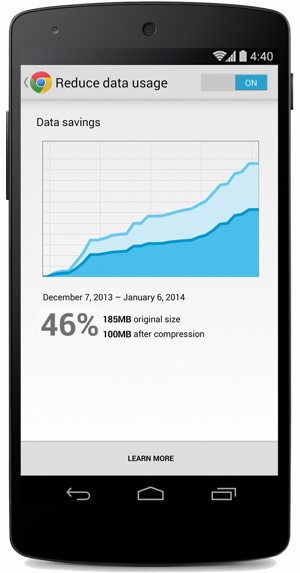 Big news for users of Google's Chrome Internet browser: Both the desktop and mobile versions of the software are getting major updates that offer a bounty of new, useful and potentially money-saving features.
On Tuesday, Google released Chrome 32, the latest version of the Chrome Internet browser. The update now causes the browser to automatically block malicious files using Google's Safe Browsing service. You'll also find a new look for Windows 8 Metro mode, new tab indicators to let you know which webpages are making noise and numerous stability improvements.
One of the more promising features hiding in Chrome 32 is a new beta feature called Supervised Users. It lets parents create browsing profiles for their kids, allowing you to block websites and keep the SafeSearch filter turned on. You can read more about creating and monitoring Supervised Users at support.google.com.
Even more exciting, though, may be the latest update to the mobile version of Chrome. It contains a new bandwidth management feature that uses Google servers to compress pages you visit before downloading them. This cuts the amount of mobile data you'll use while surfing the web in half, potentially saving you money on your cellphone bills. The use of Google servers also helps protect against malware threats.
You can turn on Chrome's new "Reduce data usage" feature by visiting "Settings" > "Bandwidth Management" > "Reduce data usage" and setting the toggle to "on." If the feature is not yet available, try again in a few days as not all mobile devices have received the update yet.
Both the mobile and desktop updates of Chrome contain numerous security fixes, so you'll want to upgrade as soon as you can. You can download the latest version of Chrome by visiting the Google website. Mobile devices running the most recent versions of iOS and Android will automatically download the mobile update to Chrome as soon as it's available.