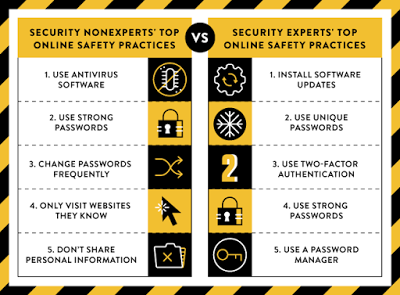 What special steps do you take to stay safe online? Are you the type to obsess over your password's strength, or do you just use the same password for every site? Do you limit your browsing to familiar sites to avoid viruses, or do you venture into all corners of the net? More importantly, which of these steps are the most important ones to focus on?
This week, a research group at Google released a paper on computer security that looks at the specific safety priorities of computer security experts. In it, Google's scientists talked to 231 security experts and 294 ordinary web users, obtaining three practices from each.
The most common safety tip from the computer safety experts is, perhaps unsurprisingly, to keep your software updated at all times. (This is something we've been very adamant about here at Techlicious.) Experts also say it's critical to use unique passwords for each site you visit, to use two-factor authentication when possible and to use strong and unguessable passwords. They also suggest using a password manager such as Dashlane or LastPass – both now let you change multiple passwords with a single click. According to Google, 73% of security experts use a password manager, as compared to just 24% of non-experts.
The everyday web users, meanwhile, had different computer security priorities than the experts. Most users prioritize using anti-virus software, changing passwords frequently, only visiting websites they know, and limiting the sharing of personal information. Only 2% of ordinary web surfers prioritize installing software updates, and many mistakenly believe that these updates make them less safe. Non-experts do understand the value of using strong passwords, however – it's their second most popular security tip.
Want more information about staying safe online? Google has created a security checkup you can take to better secure your accounts. You might also want to look at these 5 essential steps to keep your computer safe, along with our recommendations for the best PC security software and the best Mac security software.
[Computer expert via Shutterstock, infographic via Google]