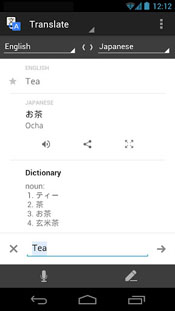 I love to travel. Most of my trips have been domestic, but I've always had this fantasy about visiting Japan. It's a beautiful country with a rich culture, beautiful scenery, and ridiculous amounts of technology. The only problem: I have no idea how to speak Japanese.
Thankfully, by the time I have enough money to take the trip, that won't be a problem. Google, the same company that's working on a self-driving car and a head-mounted computer, is working on a device that would instantly translate words spoken in one language to another.
According to a report by U.K.'s The Times, the prototype (little more than an Android-powered smartphone) represents a marked improvement over current voice-recognition technology. Performance struggles in noisy backgrounds, but Google Android VP Hugo Barra says the device has "near-perfect," "close to 100 percent" accuracy with certain language combinations in quieter environments.
To date, voice-recognition technology is more useful in theory than in practice – the error rate with Siri, for example, is still too high to cause frustration. In Google's vision, your phone will learn your unique speech patterns and accent as you use it, increasing its accuracy with time.
Google says the technology is still a few years away from being perfect. In the meantime, the company will continue to offer Google Translate. The text-based language translator was named one of Techlicious's 9 Free Android apps everyone should download just last year.