We may earn commissions when you buy from links on our site. Why you can trust us.

Review of the iPhone 6 Plus

When Apple says "Plus," Tim Cook and Co. aren't kidding. The iPhone 6 Plus, with its 5.5-inch full HD display, is huge, not only in comparison to the suddenly diminutive iPhone 5s but even against other 5.5-inch "phablets" (a portmanteau of "phone" and "tablet").
Exhibit 1 of how to effectively design a compact phablet: the LG G3. Without sacrificing much of anything, LG has managed to fit a 5.5-inch screen into an enclosure a half-inch shorter and nearly an ounce lighter than the Plus.
It's clear that Apple realized how huge the Plus feels. The company rejiggered its version of the new iOS 8 software so you can slide the top part of what's displayed on the screen down to one-handed thumb reach.
The iPhone 6 Plus is not only huge and hefty, it's slippery as hell. The phone is too tall, too top-heavy and too rounded, offering no edges to grab.
The iPhone 6 Plus is not a bad phone. It does a lot of things really well in comparison to the 5s and offers myriad advantages over the 4.7-inch regular iPhone 6 — but I just feel like this huge slick slab is eventually going to slip out of my fingers and smash into a million little expensive iPhone pieces.
Look & Feel
The best way to demonstrate how massive the Plus feels is to compare it to the LG G3, a comparative miracle of smartphone engineering that shares a 5.5-inch screen.
The Plus measures 6.22 inches tall, 3.06 inches wide and .28 inches thick, weighing in at 6.07 ounces. LG's G3 measures 5.76 inches tall (nearly half an inch shorter), 2.95 inches wide and .36 inches thick, weighing in at 5.26 ounces. The G3's efficient compactness is shocking considering Apple's vaunted design and engineering skills.
The Plus's extra height produces two physical drawbacks. First, its extra half inch of height means the Plus peeks over the top of a man's sports shirt or jacket pocket and feels like a splint when jammed into the front pocket of a pair of jeans. It fits comfortably only in an inside sports coat pocket or baggy khaki or cargo pants pockets.
What's more, the Plus is too evenly balanced — actually a bad thing. Because the Plus is so tall, the part that hangs over the top of your palm feels weightier than the bottom half that you're gripping, making the whole thing seem off balance. Apple would have been better off adding a bit of ballast in the bottom of the Plus to make it feel less like a hammer in your hand.
It's not only the phone's physical dimensions that make the Plus so awkward to handle. Apple really fell down on functional design. Unlike the Plus's rounded exterior, the LG G3 has a flat perimeter and a slightly convex rear. This shape raises the G3's edges, making it far easier to grab and grip from a flat surface. Because Plus's edges are so round and its back so flat, it's hard to pick up cleanly, and it doesn't fit as well in your hand as the G3.
Apple elongated the dot-shaped volume and mute/orientation buttons of the 5s on the Plus, making them easier to locate and operate by touch. The designers also moved the Sleep button from the top to the right side for easier one-handed manipulation. The headphone jack remains on the bottom left (when you're looking at the phone).
Fortunately, as we shall see, the Plus doesn't need a battery case, which would make it even more unnecessarily massive than it already is.
Display and sound quality
Apple giveth and Apple taketh away where the Plus's visuals and sound are concerned.
To compensate for the Plus's larger viewing area, Apple has deployed its highest-resolution iPhone screen yet: a full HD 1920 x 1080 pixels, 185 percent more pixels than the 5s and twice as many pixels as the iPhone 6 (1134 x 750 pixels), with a reported 401 pixels per inch (ppi). Great — except that the LG G3's 5.5-inch screen has a resolution of 2560 x 1440 with 538 ppi. So there.
Still, the Plus's visuals represent a slight improvement over the 5s's capabilities. The increased display area alone makes a huge difference. After a few hours interacting with the Plus, going back to the 5s is like shifting from watching a 60-inch TV to a 20-inch set.
The Plus's screen displays deeper blacks, resulting in greater contrasts and brighter, truer colors than the 5s — but you'd only notice these improvements in a careful side-by-side comparison. While the 5s screen tends toward a cooler color temperature, the Plus leans more toward a warmer hue.
One thing the Plus doesn't include is the long-rumored tough sapphire glass screen, which can be found on the new Kyocera Brigadier from Verizon. Instead, the Plus's screen is constructed of "ion-strengthened glass," whatever that is. That may not such a bad thing, since we shattered the Kyocera Brigadier's sapphire screen is a recent drop test.
In the Plus, Apple has put a single speaker in the Plus that puts out mono sound. While it puts out about 10 decibels more volume, both music and conversations from the 5s's speaker seems crisper and cleaner.
Given the Plus's larger space, why Apple didn't provide similar stereo speakers is a puzzle.
Front and rear camera quality
Uninformed observers may carp that Apple didn't increase its iSight camera's resolution, sticking with 8 megapixels while Samsung has zoomed to 16 megapixels and most other Android smartphone makers to 13 megapixels. But more megapixels doesn't equal better quality photos, and the iPhone 6/6 Plus continues to set and improve the standard for smartphone cameras.
The Plus's best photo improvement is phase detection autofocus via something Apple calls "focus pixels," a feature usually found in higher-end dedicated cameras. With the 5s, you have to wait until the camera finishes struggling to get your frame in focus. But with the Plus, the focusing process is nearly imperceptible. It seems the camera brings your shot instantly into focus, resulting in significantly faster photo-snapping.
The Plus also includes "advanced face detection" (as opposed to regular face detection on the 5s) and best-shot and burst modes present on many Android smart cams.
Photos snapped with the Plus feature deeper blacks and poppier, truer colors. But indoors is where Plus really improves images. Its flash no longer bleaches the center of photos as the 5s does, and the phase focus keeps more dimly lit objects in better focus.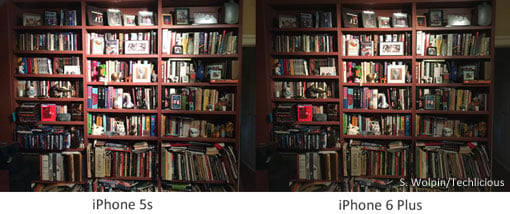 On the video side, the Plus gets optical image stabilization (OIS), which helps smooth out video and and keeps stills from blurring because you slightly moved your hand or the phone while hitting the shutter. (The iPhone 6 doesn't have OIS.) Watch these two videos and you'll not only see how much smoother the Plus video is, but also how much sharper it is compared to the video shot with the 5s.
Video with iPhone 5s (no OIS)
Video with iPhone 6 Plus (with OIS)
But I was surprised that both videos, shot on a brilliant sunny day, lack the crispness I expected from a full HD video camera (even considering that YouTube down-converted the 1920 x 1080 video to 1280 x 720). These video tests, admittedly a really small sample, are inferior to HD footage I've shot with other recent super phones such as the Sony Z1s.
In addition to OIS, the Plus camera (and the iPhone 6) includes a new time lapse mode as a new 240 fps option that's twice as slow.
The Plus's front-facing FaceTime camera has been upgraded to HD (1280 x 960) quality and includes a new light sensor to improve selfies.
All in all, Apple has improved its already industry-leading smartphone camera.
Performance
As advertised, Apple's A8 chip is faster and far more energy-efficient than the 5s. The next-generation M motion processor now includes a sensor to measures elevation via changes in barometric pressure.
Everything works faster on the Plus than on the 5s. Boot times are 1 to 3 seconds faster on the Plus, as is Web page loading. I didn't notice any orientation speed improvements; in fact, it looked as if the 5s's screen reoriented itself more quickly than the Plus.
Battery Life
Perhaps the A8 processor's improvements are most apparent in the Plus's extraordinary battery life. The 5s's poor battery life was a well-known annoyance; it rarely provided enough juice for a workday's worth of normal use.
With the Plus, you can forget all that end-of-day battery worry. I spent a full day in constant play with the Plus — setting it up, signing in to services, surfing the Web, playing music, videos and games, downloading apps, checking mail and social media accounts, reading books. The screen was never off for more than 10 minutes at a time, but I squeezed out more than 10 hours of use with 9 percent battery life remaining.
How did Apple accomplish this huge increase in power? Sensitive to criticism over the 5s's less-than-usable life, the designers made sure the Plus's power supply was more than adequate. The Apple Plus's size is a result of a huge battery — even though I got similar, day-long use from the LG G3 in its much smaller package.
Keyboard and Interface
Even Apple realized the Plus is too tall. Just tap the Home button twice, and whatever's displayed on the screen scrunches halfway down; the top of the page now appears in the middle of the screen, reachable by your thumb. I can't believe how often I've used and how quickly I've gotten used to this Home key double-tapping. You really need it to operate the Plus with one hand.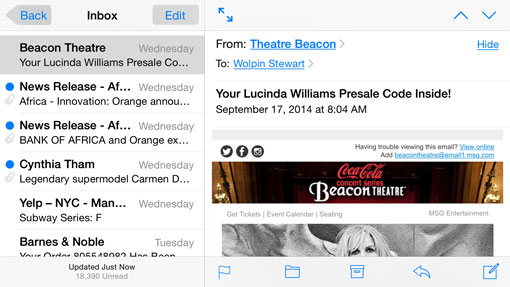 Since the Plus now gives you the space, you can view your email alongside the familiar sidebar listing of your inbox, rather than only incoming mail headers.
These are nice touches — but why, oh why, now that it has more screen room to work with, didn't Apple redesign its deficient default keyboard?
With the Plus' 5.5-inch-aided real estate, Apple easily could have added a dedicated number line above the QWERTY with some oft-used punctuation such as a period, a comma and even a hash tag, just like Samsung has on its smaller-screened Galaxy S5. These added characters would reduce the number of times you're forced to toggle through iPhone's three keyboard screens to get to these not-so-special characters, making the Plus more suitable for one-handed use (since the far left keyboard toggle key may be beyond the reach of your right thumb when holding the phone in your right hand). Increased screen toggling increases the odds of mishandling and dropping the Plus.
Worse, because the Plus is so tall, only NBA players and piano players will have the finger reach to effectively type on the Plus keyboard in landscape mode.
In a bit of good news, Apple now allows you to replace its default keyboard with a third-party version. I'm hoping and praying for a Galaxy S5-style keyboard with a dedicated number line and oft-used punctuation and key icons that actually change case (upper or lower), not just a Shift key that turns black to indicate you're about to type a capital letter.
Storage
For road warriors, perhaps the biggest boon of both 6s models (especially since the iPhone has never included a microSD card slot) is the addition of 128GB editions for both models.
Doubling the on-board memory allows you to tote a huge amount of music — for me, nearly 11,000 tracks. If you commute underground or drive in areas without Internet access, you won't have access to Pandora or Spotify, so local music storage can be critical. Increased storage also allows you to bring along all your photos, all your books, all your games — you're now self-contained, no internet access required to access entertainment or work files. You can shoot HD movies without worrying about running out of storage space.
A capacious memory also lets you store movies, which are far more watchable on Plus' larger screen than on the suddenly miniature-seeming 5s.
Another advantage to so much storage space is being able to update the iOS without plugging your phone into your PC and iTunes. iOS updates usually requires around 1.5GB of free space on your iPhone to download, space that's often hard to come by on a jam-packed iPhone without having to delete some items first.
Price and availability
• 16 GB $299 subsidized, $749 full price
• 64 GB $399 subsidized, $849 full price
• 128 GB $499 subsidized, $949 full price
That's nearly $1,000 for the top-of-the-line Plus — the most expensive smartphone ever. Add another $50 for a case you'll need to make sure the Plus doesn't slip out of your fingers, because it will. But keep in mind that carriers are offering great deals right now when you trade in your old iPhone, so it pays to check.
Like the iPhone 5s, the iPhone 6 Plus is available in space gray, silver and gold.
Many folks who preordered the Plus have not yet received their devices — Apple, the phone carriers and the delivery companies all struggled under the heavy order load — and many stores were sold out of the Plus on the first day. Call ahead to make sure the store you select has stock. As of now, carriers are citing shipment delays of one to eight weeks.
Should you buy it?
The iPhone 6 Plus is not a better phone than its primary Android phablet competitor, the smaller and lighter 5.5-inch LG G3. The LG G3 is not only a far more convenient and comfortable 5.5-inch device, but it is arguably superior, based strictly on hardware specifications. (iPhones cannot be compared to Android devices without considering the holistic Apple hardware/software ecosystem, which is far more inviting and safer than Android.)
If you're an iPhone owner looking to move up, I strongly recommend you handle the Plus extensively before buying it. It's tall, heavy and slippery, and the optical image stabilization, slightly higher display resolution and slightly longer-lasting battery are not compelling enough in my opinion to offset the device's ponderousness.
All things considered, Apple has wasted an opportunity to usurp the phablet category. Its too-big phone offers not enough add-ons that take advantage of the more generous screen space.
Verdict: Recommended for iPhone owners with plus-sized hands and a sure grip
Corrected speaker information on 9/23/2014
---
Discussion