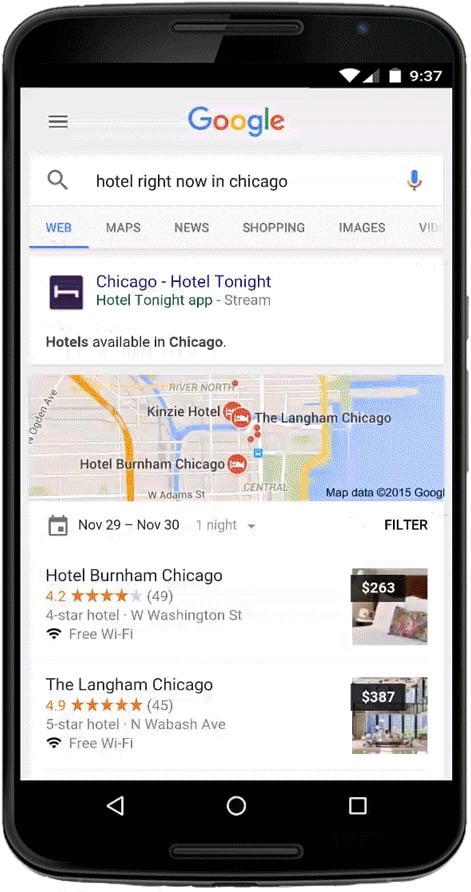 Google Search is all about helping you find answers. And now, even if the answer to your question happens to be buried in a mobile app, Google will help you find it.
Google has accomplished that by generating an index of the content of Android apps that don't have corresponding websites or pages for their content. The search company is also testing technology that streams apps to users who don't have those apps installed on their mobiles.
Google has been experimenting with app indexing for years, but until now, the index was limited to apps that have the same app content also published in a website. Now, Google has begun exploring content that resides exclusively within apps so that users can discover exclusive in-app content and discover new apps. Jennifer Lin, engineering manager at Google, made the announcement in a blog post this week.
Google is also testing streaming apps and their content over Wi-Fi. This feature could be particularly helpful if you need information from an app but you don't have the app. You can still interact with the app as if it were installed and running on your device. For instance, when you use the mobile Google Search app to find a hotel, a Stream link will appear along with the other search results. Tap that link to begin streaming the app to your mobile screen, and you can then use the app to book a room as if it were actually installed on your phone.
For now, the streaming feature is still in beta and works only with phones running at least Android 5.0 Lollipop and only through the Google Search app, not the mobile version of Google which you access through your mobile browser. A fast and stable Internet connection is also needed, because app streaming is similar to video or audio streaming with the addition of interactivity.
Nine apps are currently part of the Google indexing and streaming test: Chimani, Daily Horoscope, Gormey, Hotel Tonight, My Horoscope, New York Subway, Useful Knots, Visual Anatomy Free and Weather.
App indexing and streaming can widen the reach of your googling using Google's mobile app. Currently, when you search for in-app content, Google launches its associated app if you have it installed; otherwise, you get redirected to the corresponding mobile site. With app indexing and streaming, interaction becomes seamless because Google will launch the app if it's on your phone or stream it if it's not.
[Image credit: Inside Search Blog / Google ]