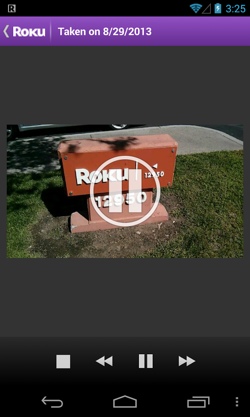 The big news of the day is, of course, the announcement of the new iPhone 5S and 5C. But Android fans have something to be excited about today, too: The latest update to the Roku app allows you to stream video from your Android phone or tablet directly to a Roku streaming-video box.
The new feature allows you to view video you've shot yourself on your home television. Think of it as a basic substitute for Google Chromecast or Apple AirPlay. Of course, you'll need to connect a Roku box (like the $99 Roku 3 or Roku Streaming Stick) to your television to complete the setup.
According to Roku, the new feature is only available for the Samsung Galaxy SIII, Galaxy S4, HTC One, Nexus 4 and Nexus 7 tablet (2012 edition). You'll also need to be running Android 4.0 or later. There's no word yet on future support for other Android devices. You'll likely have to wait for a later update.
You can find the free, updated Roku app in the Google Play store. A similar app is available for iPhone; you'll find that for free via iTunes.