When you search for yourself on Google, you can usually find your online presence, whether it's your social media profiles, work, or community activities. However, some search results link to pages that share personal information you may want to keep private, like your home address and phone number, or even highly sensitive information, such as your bank account number.
Last year, Google made a form available for you to request the removal of your personal information from Google Search without submitting proof of a threat of harm. It's a straightforward process, but Google has made removal requests even more accessible. Now, you can initiate the request right from within Google Search results. Here's how.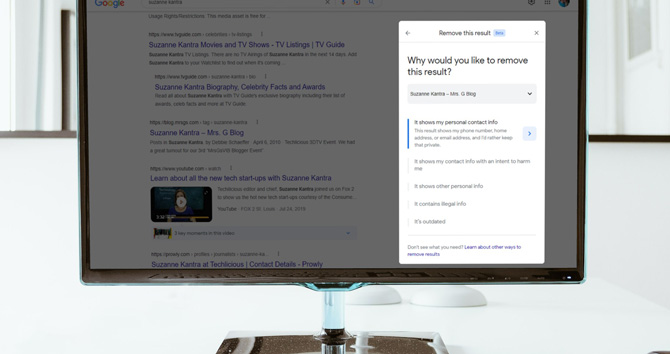 Go to Google.com, and log into your Google account (you'll see your profile picture or initial in the upper right if you're already logged in).
Search for your name in Google
Click or tap on the menu icon (triple dots) to the right of the URL of the search result listing you want to remove. A "More options" box will pop up if the search result can be removed.

Select "Remove result."
Under "Why would you like to remove this result?" choose "It shows my personal contact info." (If you select one of the other options, you'll be sent to a page that explains the supporting documentation you need and a link to the form to fill out the request.)

Select "Continue" twice, and your request will be sent to Google.
Google identifies specific types of personally identifiable information that you can request to be removed from search:
Confidential government identification numbers, like your Social Security Number
Bank account and credit card numbers
Images of handwritten signatures
Images of ID docs
Highly personal, restricted, and official records, like medical records
Personal contact info (physical addresses, phone numbers, and email addresses)
Confidential login credentials
If Google approves your request, you will receive an email confirmation. You will either be informed that the URL will be blocked from appearing in all queries or just those that include your name or identifying information. Typically, pages will continue to appear "when the policy violating information on a page is accompanied by content that is of public interest or has content about other individuals," according to Google. So, for example, directory listing pages won't appear in search results if someone searches for your name, but it will appear if someone searches for another name that is listed on the page.
Preventing URLs from appearing on Google does not remove the webpage from the original site. For instance, you need to go directly to the source if you want to remove yourself from people search directories. And a person could use another search engine, like Bing or DuckDuckGo. However, last year, Google claimed 92.58 percent of the search engine market share worldwide, according to StatCounter, so it's a giant first step.
[Image credit: Screenshots via Techlicious, monitor image via Smartmockups]
For the past 20+ years, Techlicious founder Suzanne Kantra has been exploring and writing about the world's most exciting and important science and technology issues. Prior to Techlicious, Suzanne was the Technology Editor for Martha Stewart Living Omnimedia and the Senior Technology Editor for Popular Science. Suzanne has been featured on CNN, CBS, and NBC.