One of the biggest annoyances with Apple's Face ID system in recent years is the fact that you couldn't unlock your phone while wearing a mask. That often led to frustrated fumbling to type in our iPhone passcodes when we were used to having our phone unlock automatically when we glanced at it. Fortunately, Apple has finally come up with a solution: iOS 15.4 will allow you to unlock your iPhone with Face ID even when you're wearing a mask.
But the new feature has a few drawbacks, the largest being that it doesn't work with all iPhones that support Face ID: only the iPhone 12 and 13 can use Face ID while you're wearing a mask. That means if you have the iPhone X or 11, you still won't be able to use Face ID while wearing a mask. Apple also warns that it's less secure than using standard Face ID, as it only identifies you by using "unique characteristics around your eyes" rather than your full face — so if you're concerned about security you may want to avoid Face ID with a mask and continue typing in your passcode.
However, if you have an iPhone 12 or 13 and you're eager to make unlocking your phone a bit simpler, setting up Face ID with mask is easy. You just need to install iOS 15.4 (if your phone hasn't already done so automatically), turn on the Face ID with mask setting, and then scan your face. Completing the whole thing should only take a few minutes.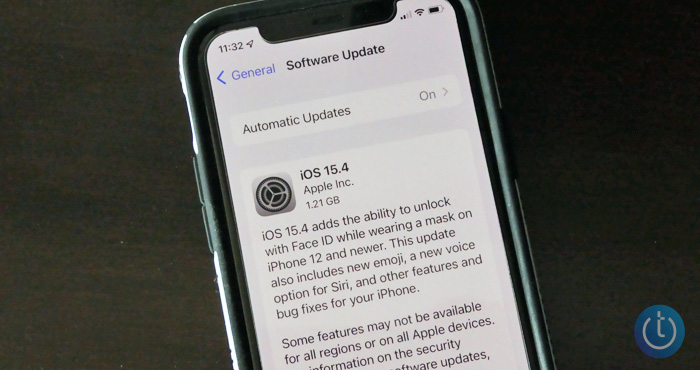 How to set up Face ID with a mask
Step 1: Install iOS 15.4
If your phone is set up to do software updates automatically, you may already be running iOS 15.4. If not, go to Settings > General > Software Update and follow the on-screen prompts to download and install the new version of iOS.
Even though the new Face ID features only work on the iPhone 12 and 13, iOS 15.4 is compatible with many models: it will run on the iPhone 6s and newer models.
Step 2: Turn on Face ID with a mask
After you update iOS, your iPhone will ask you about turning on Face ID with mask. If you didn't set it up at the time, you can go to Settings > Face ID & Passcode to configure it. You'll need to enter your passcode to access these settings, then toggle on the "Face ID with a Mask" setting.
Step 3: Scan your face for Face ID
Just like you did when you initially configured Face ID, your phone will take an image of your face as you move your head from side to side in order for it to recognize you with Face ID. If you wear glasses, your iPhone will prompt you to scan your face with and without glasses.
If you swap between different pairs of glasses, you can scan your face with each of them so it can better identify you. In our experience, the system seems to identify you regardless of which glasses you're wearing, but if you wear radically different types of frames it may be worth taking a few seconds to do an extra scan.
Does Face ID really work when you're wearing a mask?
Yes! After trying out Face ID with different masks and glasses, we found it worked nearly as well with a mask as without a mask. It unlocks just as quickly at a glance, but in some cases seems to have trouble identifying you and will still ask for a passcode.
In our experience, this happened when you had anything obscuring the area around your eyes. If you wear your mask high on your face, where it comes close to your eyes, the iPhone often wouldn't recognize you. You can still wear your mask and keep your nose covered, but if the mask covers the under-eye area, it causes problems. If your glasses are fogged up or you're wearing sunglasses, it also can't recognize you, because it needs to see your eyes, so remove your sunglasses and wait for glasses to unfog before trying to unlock.
If you don't have an iPhone 12 or 13, but do have an Apple Watch, you can set up your phone to unlock when it detects your watch is nearby to get around problems with Face ID when you're wearing a mask or sunglasses. However, this system is more limited, and won't let you access Apple Pay, stored passwords, or password protected apps without also entering your passcode. The new Face ID with mask feature gives you full access to your iPhone, just like unlocking the phone with Face ID normally. If you'd prefer to keep access limited or often wear sunglasses, you can turn on Apple Watch unlocking in Settings > Face ID & Passcode.
All-in-all, this is a welcome feature that would have been great to have two years ago. Still, it's handy for anyone who has supported iPhones and frequently needs to wear a mask.
[Image credit: Techlicious]
Elizabeth Harper is a writer and editor with more than a decade of experience covering consumer technology and entertainment. In addition to writing for Techlicious, she's Editorial Director of Blizzard Watch and is published on sites all over the web including Time, CBS, Engadget, The Daily Dot and DealNews.