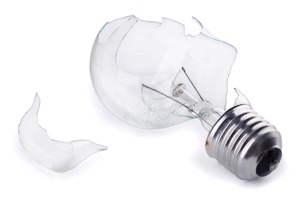 Time has just about run out for the energy-wasting incandescent light bulb. Starting January 1, 2014, companies in the United States will no longer be able to manufacture or import standard 40-watt and 60-watt wire filament light bulbs.
If you can't do without the old-style incandescent bulbs, there's no need to race out to your local home improvement store to beat the New Year's deadline. Stores and warehouses will be able to sell existing stock on hand until they run out. There's no telling exactly when this will be, though a check of my local Home Depot earlier today showed there are still plenty on the shelves.
Of course, the point of the incandescent phase out is to encourage Americans to use more efficient bulbs like halogens, LEDs and compact fluorescents (CFL). One 7-watt CFL bulb can produce the same amount of light as a 40-watt incandescent, saving you $33 in electricity on average over the life of the bulb. These new bulbs last about 10 times longer than the older tech, too.
Don't let the ugly, harsh, flickering CFLs of yesteryear cloud your opinion on the tech – energy-efficient light bulbs have drastically improved in quality since. Inexpensive new dimmer switches work perfectly with CFLs and bulbs now come in warmer shades of white. Look for bulbs labeled "warm white" or "soft white" and have a color temperature of 2700K, the same as incandescent bulbs. If you want full control of your lighting, check out the Philips hue. It's a WiFi-enabled, color-changing bulb you can set to the exact shade you want with your smartphone.
[Broken light bulb via Shutterstock]