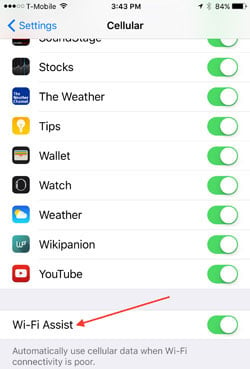 Have up upgraded your iOS device to iOS 9? And, have you noticed that you're using a lot more data than usual this month? Wi-Fi Assist, an iOS 9 feature that's intended to increase data speeds over Wi-Fi, may be consuming your cellular data allotment even when you're connected to Wi-Fi.
How? Wi-Fi Assist smartly monitors your network connectivity and automatically switches the connection to 4G cellular data when the Wi-Fi signal gets choppy or drops completely. That's a great feature if you have an unlimited data or plenty of data to spare. Imagine no more watching the spinning wheel while waiting for Netflix or YouTube to buffer.
However, we found in our Techlicious-Sprint survey that 34% of people run out of data every month. And, we are likely to keep outgrowing our data plans. According to NPD, the average smartphone user consumes 2.9 GB of cellular data every month, up from 1.8GB in 2014. With data needs rising so fast, you're likely to start blowing through your data allotment before the end of the month.
By default, Wi-Fi Assist is turned on, so you'll want to head into settings to turn it off. You'll find the feature under Settings > Cellular. Scroll down to the bottom of the Cellular page to turn the toggle switch off. When it's not green, Wi-Fi Assist is off.
While you're on the Cellular Settings screen, take the opportunity to see which apps are using cellular data. You'll want to turn off the data hogs, like Netflix, Amazon Instant Video and YouTube. Check out the data use next to each app to see if there are others consuming a lot of data and turn those off too. These apps will now only assess the Internet when you're connected to Wi-Fi.
Thinking about switching to an unlimited data plan or upping your current data allotment? Check out our story on selecting the right cell phone plan. And if you just bought a new iPhone 6s or 6s Plus, consult our 12-step guide to setting up your iPhone the right way.
[Image credits: coffee with WiFi symbol via Shutterstock, Apple]