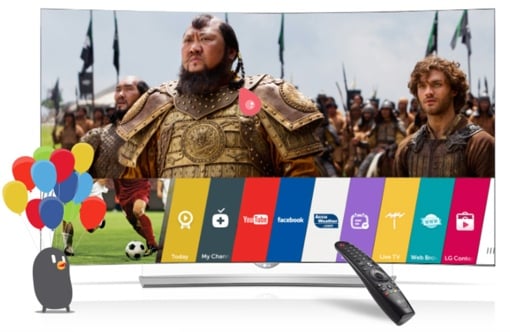 These days, our living room televisions are used for a lot more than just watching TV. According to the statistics, two out of every five households now subscribes to at least one online video streaming service like Netflix. And that doesn't count those of us who are merely borrowing a family member's password.
With all the streaming that's going on in our lives, it might make sense for your next TV to be optimized for streaming. Or, at least, that's the bet that both LG and Netflix is making. This week, the two companies partnered to release one of the first Netflix Recommended TVs, its first ever specifically designed to optimize streaming performance.
What makes one of these recommended TVs so great for streaming Netflix? "The Netflix Recommended TV designation for our Ultra HD TVs recognizes LG's exceptional Smart TV performance and user interface," explains LG's U.S. Vice President of Marketing Dave VanderWaal. "LG's 4K OLED and LED Smart TVs featuring the advanced webOS 2.0 platform offer an unbeatable combination of breath-taking picture quality and speed, as well as a streamlined, intuitive interface for the best Netflix experience possible."
All Netflix Recommended TVs are required to run the most recent version of Netflix available out of the box. They must also support the fast launch of the Netflix app, fast resume and fast video playback. Ease of access is key here, so Netflix Recommended TV remotes all have a dedicated Netflix button, too. Hisense, Insignia, Sony and TCL all intend to make Netflix Recommended TVs available, as well.
So, the question then is this: Do you need a Netflix Recommended TV for your living room? If you're a cord cutter who's currently in the market for a television, certainly it couldn't hurt to keep an eye out for the "Netflix Recommended TV" logo. Otherwise, there's no massive benefit here – most other smart TVs run the Netflix app well without difficulty. (Or, at least, the ones I've tested and bought have.)
LG's new "Netflix Recommended TV" model series includes EG9600 UHD OLED TVs (55", 65"), UF9500 Prime UHD LED TVs (65"), UF8500 3D UHD LED TVs with Cinema Screen (60", 65"), UF7700 UHD LED TVs (60", 65", 70") and UF7600 UHD LED TVs (43", 49", 55"). To learn more about this LG lineup, visit the company's website. To learn more about the Netflix Recommended TV program, visit the special landing page on the Netflix website or watch the short promotional YouTube video embedded below.