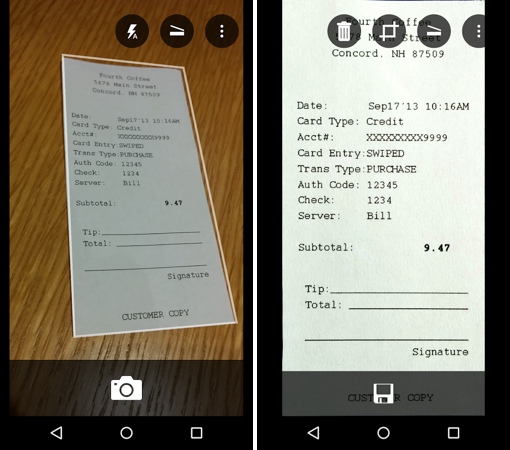 Office Lens, Microsoft's powerful pocket scanner app, is now available for iOS, Android and Windows Phones devices. The free app is a handy substitute for clunky desktop scanners, automatically converting photos of documents into editable Word docs, PowerPoint slides and PDFs.
There's a lot I like about this simple productivity app. It automatically detects text and borders, and is able to automatically correct for pictures taken at an angle so all your scanned documents always look flat. Office Lens also enhances the images you take, all with the aim of boosting readability. Basically, the app does everything for you.
The documents you scan with Office Lens can be saved and used in a variety of ways. Take a picture of a business card, for example, and Lens can transfer the data to OneNote so it can be added to your phone contacts. You can take a picture of a complicated printed legal document, convert it to an editable Word document via optical character recognition (OCR) and search the document by keyword. Or, if you take regular business trips, you can quickly create PDFs of all your receipts and e-mail them to the accountant right from the app. Documents can be saved locally, shared or stored in your OneDrive cloud (using the app requires your Microsoft ID).
I've used the app a bit since it came out for the iPhone last month (Android functionality was only announced this week). It does a great job of automatically detecting, cropping and straightening documents. Don't expect it to convert your handwriting to text you can edit, but it has no problem creating Word docs out of clear printed text. It was even able to convert the back of a box of kitchen sponges into text with only a few errors and formatting issues.
You can head over to the Microsoft Office 365 blog to learn more about the app; a short promotional video is available below as well. You can download the free app itself for iOS on the Apple App Store, for Android on Google Play and for Windows Phone on the Windows Phone Store. You might also want to check out the Microsoft Office suite of apps since there's a lot of cross integration here. Word, Excel and PowerPoint apps are all now free on devices smaller than 10.1 inches.
[Image credit: Microsoft]