It used to be that if you wanted to do something about a squirrely kid, you'd kick him outdoors and hope he climbed a tree or built a fort. Then came along TV, which often sufficed as a capable babysitter.
Today, all that's changed. You know how parents today are distracting their children from boisterous behavior? They give them a smartphone or tablet.
Mobile Devices in the Family
A recent national survey of smartphone and tablet users found that mobile devices are changing family dynamics. More than half (53%) of parents of children 13 and younger say that they use mobile technology to pacify their children—25% of whom carry their own mobile device.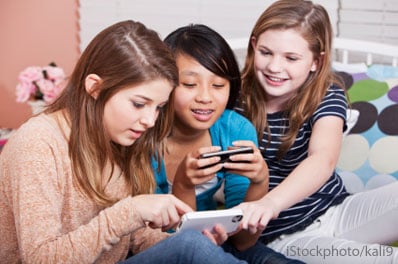 Of parents whose children don't yet own a mobile device, 39% say they would consider buying one for them. Half feel the right age for a child to own a smartphone is between 8 and 13, although 45% say it should be between 14 and 18. Only 5% think kids younger than 8 should have them.
When asked about tablets, 47% of parents surveyed say kids should own one between the ages of 14 and 18, 39% say the 8 to 13 window is appropriate and 13% say the right age is under 8.
If you count yourself in the minority camp that thinks younger kids should have their own smartphone or tablet, just make sure to buy one with parental controls.

The iPhone beats Android phones hands-down in this area, although new phones soon to ship with the Windows Phone 8 operating system on board are rumored to include a Kid's Corner option that gives children their own safe area to access apps, videos, games, and music.
And as tablets go, the new Kindle Fire HD features a service that lets you set time limits based on the type of content your kids are interacting with. For example, you could allocate unlimited time for reading e-books and limit the amount of time they can watch video or play games. And both the Kindle Fire HD and Barnes & Noble's Nook HD and HD+ feature profiles, which let you set content ratings and limit access to apps.
Problems With Kids Using Mobile Devices
In spite of all this love for mobile devices in the hands of kids, there are some problems with it, such as children who, without permission, use a smartphone to call a parent's contact (39%), download an app (36%), buy something (13%) or dial 911 (9%). Not only that, but nearly a quarter of parents surveyed say their kids have damaged or lost their device while playing with it. It's not surprising then that 41% lock their mobile device to keep kids off it.
Remember when people used to worry about kids having unrestricted access to the Internet (and these devices certainly give them that)? Only half of parents say they have warned children about protecting their privacy when using a mobile device.
Some People Can't Put These Things Down
Outside of parenting, people have other issues with their mobile devices. Four of five respondents (80%) admit to using them in the bathroom, on a date (56%), in a place of worship (27%), and at a funeral (a shameful 13%).
More stats:
70% of smartphone or tablet owners say they use their mobile device most often at home.
15% percent said they use it most at work, while 5% use it most in the car (see my opinion about that in another story)
69% of smartphone owners and 67% of tablet owners play games on their devices.
34% of smartphone or tablet owners (and 47% of men 18 to 34 years old) said they watch movies on their device at least once a month.
While 94% of smartphone and tablet owners have taken photos using their mobile devices, 56% say they post less than 25% of their photos to social media sites.
58% say they have used their mobile device for nutrition tips or exercise, with 26% doing it weekly.
48% say their device is on a high-speed 4G network even though 54% of them don't know what type of 4G network that is.
66% say they use their smartphone or tablet for sports-related activities, such as checking scores, using social media, catching up with sports news, highlights, fantasy sports games as well as watching live sports.
The survey, which was conducted by Ipsos and commissioned by Qualcomm Snapdragon, polled 1,500 U.S. residents within the ages of 18–50 who are the primary users of smartphones and tablets.