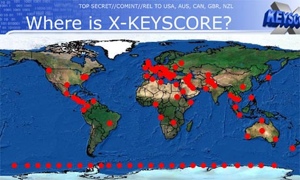 When news of the NSA domestic spying scandal broke in June, the U.S. government was quick to pounce on leak, insisting that collection efforts were limited to metadata – that is, only collecting data about when phone calls were made and to whom. Edward Snowden, the NSA whistleblower, claimed domestic data collection efforts were far more wide spread than the government was letting on.
"Any analyst at any time can target anyone," explained Snowden to The Guardian in June. "I, sitting at my desk, certainly had the authority to wiretap anyone, from you or your accountant, to a federal judge, to the president."
Mike Rogers, the chair of the House Intelligence Committee, called Snowden a liar and said his claims are "impossible." But a new report by U.K.'s The Guardian about a previously undiscussed program called XKeyscore shows that Snowden was indeed telling the truth – the government really can read and store the contents of your private emails, Facebook chats, search terms and more, all without need to contact a court for a warrant.
Because the XKeyscore system collects so much data from the Internet per day – as much as 20 terabytes, or 1.4 billion records – it cannot logistically retain most information for longer than a week. Less specific metadata is kept for up to a month, while emails with interesting search terms (such as the name of a known terrorist, for example) are stored for extended periods of time.
The system is not supposed to collect and store data from domestic U.S. citizens who are not under any type of investigation. But XKeyscore casts a very wide net due to what the NSA calls "highly sophisticated technology issues." Those with a specific level of security clearance at the NSA really can obtain access to just about any piece of private information available on the Internet today.
Analysts aren't supposed to look at your personal information, and the NSA says checks and balances are in place to make sure rogue agents don't. Still, the details of the XKeyscore program suggest that the only real protection left on your privacy is the NSA's word. And the agency sure has been caught doing a lot of lying lately.
For more details on the XKeyscore program, including the specific types of information that the system can dredge up, check out the full The Guardian article.