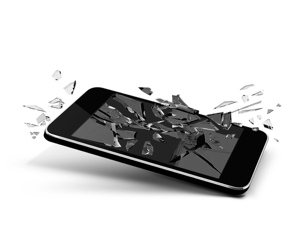 I've broken my iPhone a handful of times. In 2011, I had to get a new iPhone 4 because my home button stopped functioning. The next year, I accidentally dropped a 45-pound weight on one at the gym, shattering through the glass and warping the phone's metal into a different shape. This summer, I cracked my screen when I dropped my phone while cleaning and disinfecting its protective case. All three times I took my device to Apple first, and all three times I was offered the same fix: a full phone replacement at a cost of $199.
See, Apple performs "repairs" for iPhones via their Genius Bar, but if you've ever taken advantage of the service, you know you're not really getting a repair at all – just a replacement phone. But that may be about to change. According to 9to5Mac, Apple Stores have begun receiving the machinery and parts needed to replace screens, batteries and make other minor fixes for the iPhone 5S and 5C without swapping the entire phone, saving you big bucks on future phone repairs.
Under the plan, the cost of replacing and calibrating a new touchscreen would drop to $149 in-store without Apple Care phone insurance. Swapping out a shattered screen takes between 30 minutes and an hour, comparable to the amount of time it currently takes to activate and restore your settings on a replacement iPhone.
"In addition to displays," says 9to5Mac's Mark Gurman, "Apple will have the capability to replace the volume buttons, vibrating motor, rear-camera, and speaker system on the iPhone 5s and iPhone 5c." This is especially good news to those with broken home buttons: Instead of having to shell out $199 for a replacement phone, you'll only be on the hook for a $29 part (at least for the iPhone 5C). A battery replacement, meanwhile, will cost $79.
There's no official information about when Apple's more capable repair program will kick off, but it's likely to happen soon. Of course, most of these repairs can already be done by third-party companies, and for less money. But with Apple, you at least know the work is guaranteed by a reputable company.
For more on the coming Apple repair program, check out 9to5Mac.
[broken glass smartphone via Shutterstock]