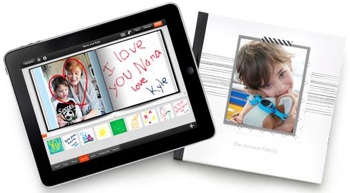 One of my favorite photo-publishing services is Shutterfly. The company takes all the cool pictures trapped on our phones and cameras and helps convert them into real world things. And not just prints, of course – you can have photos printed on mugs, phone cases, canvas prints and all sorts of other unique photo gifts.
This past week, Shutterfly announced a new Doodle drawing feature now built in to the Shutterfly Photo Story for iPad app. It lets you draw pictures or words with your finger in your choice of colors. It's a nice little way for kids to add their own signature or personal touches to a gift, or for them to create their own children's storybook.
Since Doodles are saved to shutterfly.com, you can use the company's website to order from its large catalogue of custom-printed gifts as well. That opens up some neat possibilities for the creatively inspired, like creating your own custom throw pillows.
You can download the free Shutterfly Photo Story for iPad app on the Apple App Store.