There's been a lot in the news recently about privacy risks. From Apple and Google tracking your location, to Facebook releasing your personal information without your knowledge, it's gotten bad enough that Congress is considering new laws to protect us. While it's reasonable to be concerned about what the big corporations are up to, the biggest risk may be coming from someone much closer to home – your spouse.
A new Retrevo Gadgetology study shows that the level of spying among spouses and dating partners has reached shocking levels. According to the study, 30% of men and 35% of women admit to having checked the email or call history of someone they're dating without them knowing. An even larger 32% of men and 41% of women admit to doing the same with their spouses. Thirty-one percent of men and 33% of women would even secretly track their spouse or partner using their cell phone if that technology were available.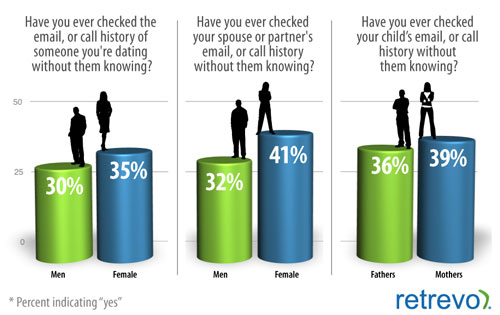 Perhaps because of the increasing media focus on celebrity cheaters, or maybe as people become more aware of what clues to look for with a cheating spouse, the percentage who admit to spying on someone they're dating has increased significantly over the last year. Retrevo's 2010 study found that 8% of men and 11% of women snooping. And if you think younger people care less about privacy, you're right – 47% of those under age 25 admit to spying.
So is all this snooping paying off? Unfortunately, yes. Seventeen percent of those who spied discovered their spouse was cheating.