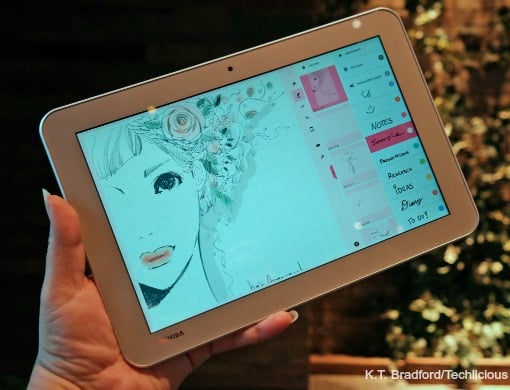 Today at the Consumer Electronics Show, Toshiba announced three new Windows machines: an ultra-slim ultrabook two-in-one hybrid and two tablets that should prove very popular come back-to-school time. I had the chance to spend a little time with the Toshiba Encore 2 Write Tablets and the Portégé Z20t ultrabook ahead of the show. Here are my first impressions.
The pen is mightier
The Encore 2 Write tablets are pen-focused devices that come with impressive hardware and preloaded software. Available in 10.1- and 8-inch sizes, the Encores are beautifully designed and crafted, both lighter than their size would suggest without feeling flimsy.
Toshiba calls the included pens TruPens and the technology behind them Wacom Feel. That's because they're not traditional Wacom technology like you'll find in the Galaxy Note series or the Portégé I talk about below. The TruPen is technically a capacitive tool, but it's far more sensitive and accurate than other styluses you can buy. You get fine-point accuracy, pressure sensitivity and impressive palm rejection.
When I tried out the TruPen, it felt almost exactly like using an S Pen on the Galaxy Note 10.1. It glides like a gel ink pen on the screen, and its pen-like weight makes holding it comfortable and natural.
Because the TruPen is about the same size and weight as a good pen, it doesn't fit inside the body of the Encore 2 Write. There is a port to hook the pen in so it stays with the tablet. There's still a chance of losing the pen if you're not careful. I wish Toshiba would include two versions of the pen—one that fits inside for quick notes and a larger pen for longer sessions.
With these tablets, you may well spend a lot of time writing or drawing on the screen. Toshiba includes several apps that let you take advantage of the pen's capabilities, chief among them TruNote, TruCapture and TruRecorder.
TruNote is one of the best note apps I've seen for Windows (or Android), rivaling Samsung's SNote in functionality and use. Write, draw, import pictures, annotate, whatever. Owners have their choice of backgrounds and can mix images, drawings, handwritten text and regular text. Handwriting recognition is excellent.
TruCapture snaps images of typed pages, backboards, whiteboards and so on, then cleans them up. The 8-megapixel camera on the back takes surprisingly clear, crisp pictures. You can import the images or text into TruNote or save them in other formats.
TruRecorder is the most impressive app of the three. It uses the Encore 2 Write's multiple mics to detect how many people are speaking and separates the audio into separate layers. The demo I saw filtered out background noise, correctly identifying four speakers during a back-and-forth conversation. You can tag each person and include other metadata to make it easier to find the recording and specific parts of recordings later.
All three apps tie into each other, making it possible to keep notes, lecture or meeting recordings and whiteboard snaps together in one place.
Owners also receive a one-year subscription to Microsoft Office 365.
The Encore 2 Writes run on Intel Atom processors and 2GB of RAM. They have 64GB of internal storage and a microSD slot that accepts cards up to 128GB, providing plenty of space for files and apps. Other ports include a micro-USB port and a micro-HDMI port. The thinness of the tablets precludes a full-size USB port, and unfortunately Toshiba doesn't include a micro-to-full USB dongle. That's my only quibble with these tablets —that and the pen thing.
The Encore 2 Write tablets are impressive Windows 8.1 machines. The 8-inch version is tempting me away from my Galaxy Note 8. It's just the right size for writing notes and carrying everywhere, and so far I love the pen. I'm looking forward to getting my hands on it for a longer test.
I won't have to wait long, and neither will you. The Encore 2 Writes will be available on Jan. 11 at select retailers or through Toshiba's online store. The 8-inch model costs $349 and the 10-inch is $399, both budget-friendly prices.
Power and portability
For those of you who want pen input but need a more powerful machine, the Toshiba Portégé Z20t two-in-one may be more your speed. This 12.5-inch laptop with full HD resolution detaches from the keyboard for tablet time and runs on Intel's Core M processor. Core M is all about thin design, since it doesn't require a fan, yet it promises real performance.
The Z20t comes with a Wacom active digitizer pen that works as smoothly as I've come to expect from this technology. It's as close as you can get to pen-and-paper feel on a screen, and with this size tablet, you'll have almost as much space for writing as you would on a regular-sized notebook.
When it's assembled with the keyboard base, which ups the rated nine hours of battery life to 17.5 hours, the Z20t is a little heavier than I'd like an ultrabook to be, but it's still plenty light. Along with an added battery, the keyboard dock comes with a slew of ports: full-size RGB, HDMI, Gigabit Ethernet and two USB 3.0 ports. The tablet portion has micro-HDMI, micro-USB and microSD ports.
The keyboard itself has notable tactile feedback and feels good under your fingers. All the keys are in the right places, and due to the device's overall size, they don't feel undersized.
Overall, the Toshiba Portégé Z20t is a solid notebook. Though it's geared toward business users, anyone who needs serious power and portability should check it out. It will be available through Toshiba Direct and business retailers later in January, starting at $1,399 with 128GB of internal storage. Configurations with 256GB and 512GB SSD configurations are also available and buyers can add up to 8GB of RAM.
[Images via Toshiba and K.T. Bradford]