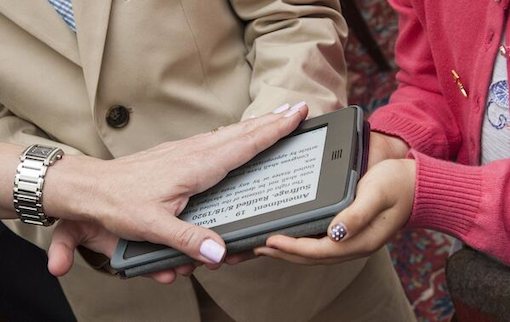 We are truly living in the digital era. This week, Suzi LeVine, the new US ambassador to Switzerland and Liechtenstein, took her oath of office with her hand on a Kindle Touch. The Kindle was standing in for the US Constitution, and it displayed the first page of the 19th amendment, which allows women to vote.
This digital stand-in reflects an overall trend in books: ebook sales are rising dramatically faster than paper books. According to USA Today, digital books now account for 20% of all book reported by publishers.
Though this was the first time an ambassador was sworn in on a digital device, it was not the first time public officials have been sworn in using digital documents. In January, a Long Island official was sworn in using an iPad. And in February, a group of New Jersey firefighters did the same. In both cases, a Bible could not be located, while a digital stand-in could.
But never fear, book lovers—paper books definitely aren't going away... though we may still see more of these digital stand-ins in the future.