After months of teasing the possibility of creating a streaming video app for kids, Google is finally following through. On February 23, the company will launch YouTube Kids, a new mobile app that exclusively contains age-appropriate content to entertain and encourage learning, USA Today is reporting.
Much is being done to make YouTube Kids "fun and safe for children." Unlike the main YouTube site and app, YouTube Kids is expertly curated to keep questionable content away from young eyes. Videos are provided by Google's partners at Jim Henson TV, Dreamworks TV and Mother Goose Club (among others) and fit into four categories: Shows, Music, Learning and Explore. Content is primarily aimed at younger children – think Sesame Street, Reading Rainbow and Thomas the Tank Engine.
The app's design caters to tiny fingers by offering big icons, limited scrolling and voice-based search. The ability to leave comments has been removed – great news, considering that YouTube comment sections often contain some of the most offensive and hostile content on the Internet. There are parental controls too, so you can choose just how much screen time with cat videos your little ones get. If kids initiate a search for age-inappropriate content (e.g., sex), they'll get a gentle "try something else" error message.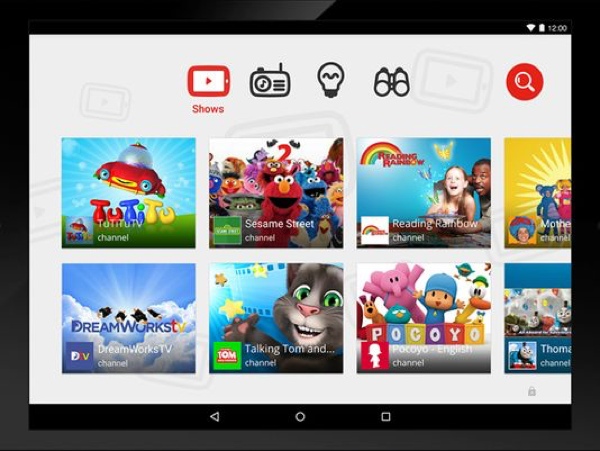 The free YouTube Kids app will be available on Android only at launch, with an Apple iOS version to come soon. More details will be available when the service officially launches this Monday.
[Image credit: Google]