We may earn commissions when you buy from links on our site. Why you can trust us.

The Best Antivirus Software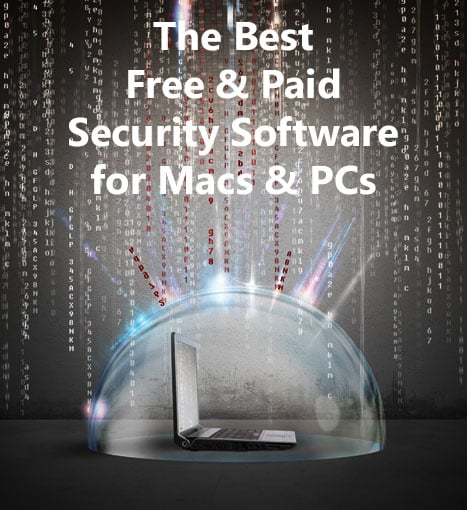 From banking to shopping, most of us engage in key everyday tasks online. The data flying through the ether is more valuable than ever. Whether you use a Mac or a PC, an antivirus program can help you protect your most sensitive information.
In the second quarter of 2015 alone, an estimated 21-million new malware threats (PDF) were created, while Macs experienced more malware attacks on OS X in 2015 than ever before..
Malware can include viruses which stop computers from working properly; Trojans that allow hackers a door into a user's system, compromising personal information; and increasingly, ransomware, such as the virulent, still-active Cryptolocker, which encrypts files, rendering them inaccessible unless the user pays a ransom.
There are many free antivirus programs that do a good job of blocking malware before it can get a foothold in your system. Yet the best antivirus falters against one of the most common reasons behind a hack – negligence. Phishing - where users are tricked into clicking links that can download malware or fraudulently request login information - is on the rise as email attacks grow more sophisticated, for example, by using official-looking logos from institutions including banks, retailers and computer companies such as Apple. Apple is now the most phished brand in the world, perhaps due to the growing raft of login details tied to an Apple ID – email, iTunes Store and, through Apple Pay, a user's bank account. Blocking phishing links, whether in email or websites, is the sort of thing that could make a paid-for antivirus program worth the investment.
That said, if you're the savvy sort that would never click on a pop-up ad, or open an attachment in an email from Amazon that misspelled your name, a free antivirus program with no bells and whistles could be sufficient. Many run on the same malware detection engine that powers their paid-for counterparts. However, free versions often impact a computer's performance more, while paid-for programs usually have a lineup of extra security features including alerts of malicious sites, blocks for spam and phishing links, additional encryption for financial transactions, and password managers (so you don't need to remember your dozens of uncrackable pass-phrases).
Whichever type of antivirus software you decide to go for, there are the most important criteria to consider:
Will it slow my computer's performance? You can check the performance impact of most antivirus programs at independent testing labs such as AV-Test or AV-Comparatives. In general, paid-for software doesn't tax your computer as much.
Does it detect PC and Mac malware?– Being able to detect malware for both major operating systems helps prevent you passing on dubious files to friends using a different OS.
Continuous protection?- Some free antivirus programs only offer on-demand virus scans; a bit like locking the stable door after the horse already bolted. Real-time scanning is preferable, but can impact performance.
Suspicious site alerts?– Usually a feature of premium antivirus programs, can block phishing emails and access to malicious sites; handy if kids or the less tech-savvy are using your computer .
Data protection? – Some software offers specific protection for bank and/or credit card details, for example.
Extras: Password manager and data backup (handy in case of ransomware or other malware rendering your files inaccessible)
We scoured the web for security suites for Mac and PC, both free and paid-for. In all cases, the software cost less than $100/year, is targeted towards home users, and received high scores on performance and protection from independent testing labs.
Best PC Security Software: Kaspersky Total Security 2016
One of the pricier options around, Kaspersky Total Security offers a hefty lineup of security features for PCs. Along with real-time scanning for malware, the software runs instant safety checks on downloaded files, and uses a set of machine learning algorithms in order to identify new and unknown malware. Over at AV-Test, independent testing found that Kaspersky's antivirus engine caught 99.9% of malware samples with minimal slowing of the computer, and zero-second lag on tasks including downloads, program installations and copying data.
The software also scans websites for suspicious behavior and alerts you of potentially malicious sites, while an URL adviser displays a particular site's security and reputation.
Its Safe Money tech checks that banking, payment and retailer sites are safe—then opens the site in encrypted mode. An on-screen virtual keyboard defends from keyloggers that can send back your passwords to a cyber criminal. You can also enable a private browsing mode that blocks trackers – a good way to browse anonymously without having to download a new browser or a raft of privacy plug-ins.
Data backups are automatic and scheduled so that if ransomware or a virus takes down your computer, your data can be restored. If you have children, the parental controls let you manage your kids' downloads as well as restrict access to inappropriate content.
Cost: $45.33 on Amazon. Covers three devices for one year.
Available on: PC, Mac, Android
Performance impact: Minimal
PC and Mac malware? Yes
Continuous protection? Yes
Suspicious site alerts? Yes, anti-phishing filter; malicious site alerts
Data protection? Yes, encrypted financial transactions; webcam protection (prevent hijack of webcam); private browsing mode
Extras: Password manager, data backup to the cloud, parental mode; banner ad blocker
Best Free PC Security Software: Avast Free 2016
High school has taught us that popularity doesn't necessarily equal success, but one reason to go for the most popular antivirus solution is that the more customers use a software, the more viruses and malware pass through its shield – and the better the software becomes at recognizing new malware.
Avast Free is used by 230-million customers in 186 countries and according to AV-Tests of the 2016 version, it detected 99.8% of the malware samples it was tested with. Frequent mini updates to the software instead of occasional large downloads means there's a less noticeable toll on system performance – AV-Comparatives found that Avast Free was the lightest of all PC antivirus, including paid software (PDF, page 9) . (However, the Mac version was found by AV-Test to impact system performance a lot more, as it scans downloading files one by one instead of after the download).
The 2016 version further updates the interface with a row of icons along the top with easy-to-grasp images and labels and lots of optional settings. It too has already received a number of outstanding reviews. While many free antivirus programs only clear malware, Avast's free edition also includes a free syncing password manager – allowing the user to remember one password instead of several to log in all over the web – as well as a browser cleaner to remove unwanted toolbars. Its overall interface is easy and friendly to users. Its Home Network Security feature scans your home Wi-Fi network for vulnerabilities hackers could exploit – and patches any it finds.
Cost: Free on avast.com
Performance impact: Minimal
PC and Mac malware? Yes
Continuous protection? Yes
Suspicious site alerts? No
Data protection? No
Extras: Password manager; browser extension remover
Best Mac Security Software: Symantec Norton Security
If you're a Mac user considering purchasing antivirus software, the options for Apple devices can seem feature-light compared to the software available for PC. Symantec Norton Security is a real-time scanning security software that includes the bonus features common to PC security software such as scanning for phishing sites (and blocking access to the dubious ones), scanning email and instant messenger attachments and the ability to detect potentially risky applications. The Safe Web feature also alerts you to dangerous sites (such as those that may contain adware, phishing scams or other malware). AV-Test found that its impact on performance speed was minimal - and it caught 100% of malware samples thrown at it.
So while this is a great choice for Mac, it's also a smart option if you're a Mac/PC household.
If you shell outfor the multi-device option, one year's subscription covers up to five devices on Android, iOS, PC and Mac. That's handy even if you're not a multi-device household – smartphones are increasingly the transmitters of our most sensitive personal and financial info, and running Symantec's smartphone app on yours can secure all that cybercrook-luring data. No matter the OS, if you download a virus that Symantec experts can't remove, there's a money-back guarantee. Unfortunately, the Mac version has no option for automatic data backups (as there is for the PC edition) – but this remains a sleek, easy to use way to manage security for more than one device.
Cost: $23.58 on Amazon for 1 device, $42.50 on Amazon for 5 devices
Available on: Mac, PC, Android
Performance impact: Minimal
PC and Mac malware? Yes
Continuous protection? Yes
Suspicious site alerts? Yes, Safe Web shows potentially malicious sites; anti-phishing filter
Data protection? No
Extras: Money-back guarantee if viruses can't be removed; scan for outdated programs; password protection for particular files, security that automatically changes depending on network
Best Free Mac Security Software: Sophos Home for Mac
While paid-for antivirus software comes with extra security features, there are some free options with solid performance when it comes to blocking malware and flagging dodgy websites. Sophos Home, which used to be known as Sophos Antivirus for Mac, can block Windows and Mac malware without overly slowing your computer's performance.
When tested by AV-Test (in its previous incarnation, which uses the same malware engine) Sophos Home detected 100% of the malware samples sent its way with a performance lag of 20% in activities such as downloading or copying files (a 10% lag wouldn't be noticed by most users) – the least impact of all the free Mac antivirus software tested. The same version also detected and neutralized 100% of the malware samples in testing by AV-Comparatives (PDF, page 60).
If you install Sophos Home on more than one computer – say, your partner's or kids' devices – you can view and manage their security settings from a single dashboard.
Cost: Free on sophos.com
Performance impact: Some impact
PC and Mac malware? Yes
Continuous protection? Yes
Suspicious site alerts? Yes – blocks sites with known malware
Data protection? No
Extras: Managing security settings for all devices from single interface
[Firewall and antivirus concept with a laptop via Shutterstock]
---
Discussion