We may earn commissions when you buy from links on our site. Why you can trust us.

8 Stocking Stuffers Under $50
Need to find some gifts for less? Nothing says holiday cheer like the gift of tech. And though there are plenty of pricey options out there, our research uncovered plenty of high-quality, affordable products we wouldn't hesitate to recommend. Some of the products we recommend have gone through our hands-on testing, others are products that we've vetted through other professional and consumer reviews. Here are our favorite products for everyone on your list – and you can nab them all for under $50.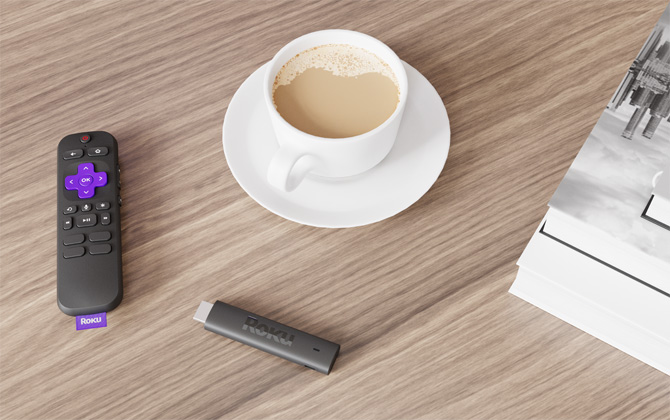 Our favorite budget 4K streaming device: Roku Streaming Stick 4K
Roku is our top pick among streaming media platforms, with its no-agenda approach to delivering the content you want to watch. And, if someone on your list needs a streaming media player upgrade, the Streaming Stick 4K is Roku's best streaming device for under $50. Just plug the stick directly into the HDMI port of your TV, connect to the Internet, and you'll be enjoying a 4K picture with Dolby Vision and HDR10+ in no time. We're also big fans of the included remote control, which lets you change the channel or search for movies and TV shows using your voice.
Price: $49.99, on sale for $29.99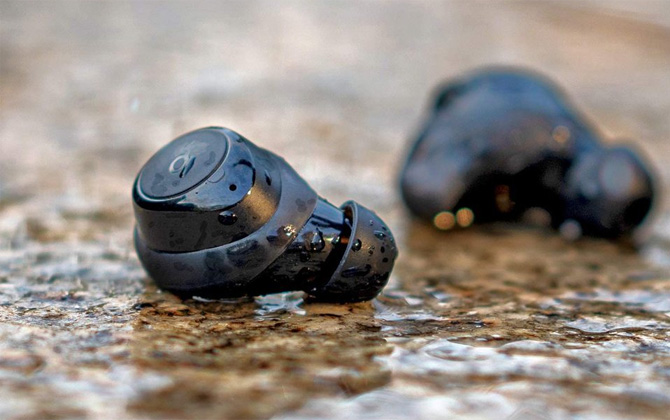 Our favorite true wireless earbuds under $50: Anker Soundcore Life Dot 2
Everyone can appreciate a good pair of true wireless earbuds, and Anker's Soundcore Life Dot 2 will fit your budget and deliver impressive sound, with accurate mid and treble and thumping bass. These true wireless earbuds are praised by professional reviewers and consumers alike. Rtings chose them as the best wireless earbuds under $50 and the 5,000+ reviewers on Amazon delivered an average 4.5 out of 5 stars. We always recommend that you buy earbuds with a water resistance rating of at least IPX5, which the Life Dot 2 has for sweat resistance. The included stabilizers provide a secure fit and make the Life Dot 2 the perfect choice for a run or workout. In addition, the Single Earbud Mode allows you to listen with just one earbud out of the case for calls, usually a feature found on more expensive earbuds. We appreciate the 7-hour battery life, 100 hours of charging in the case, and the fact that just 10 minutes in the charging case will give you an additional 90 minutes of listening.
Price: $49.99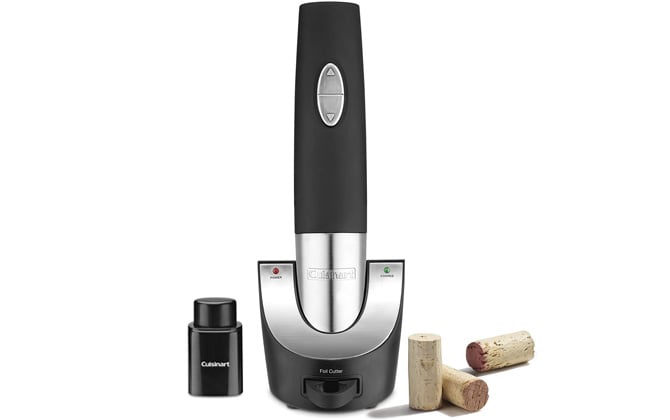 A fun gift for wine lovers: Cuisinart Vacuum Sealer Wine Opener
Cut through the vino clutter with an amazingly simple-to-use wine bottle opener. It's a great gift for anyone who loves wine and kitchen gadgets. When picking a wine opener, the Cuisinart Vacuum Sealer Wine Opener consistently rose to the top, making best opener lists by The Spruce Eats and Saveur and receiving 4.7 stars out of 5 by 1,800+ reviewers on Amazon. Cordless and electric, the opener removes corks with the press of a button in seconds using stainless steel spring and Teflon drill. Store the wine opener and foil cutter in the charging base between uses. The battery lasts for up 50 bottles before you need to recharge. And when you're done, a vacuum sealer comes in the box to keep whatever wine is left in the bottle fresh.
Price: $39.95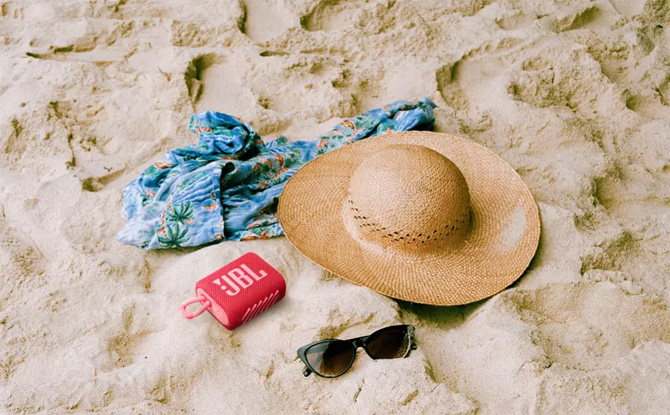 A tiny yet mighty Bluetooth speaker: JBL Go 3
For music lovers, the JBL Go 3 portable Bluetooth speaker is both powerful and pretty. Everyone who's tested it loves it: Cnet gives it 8.2 out of 10 stars, PCMag awards it 4 out of 5 stars, and 6,800+ consumers rated it an average of 4.8 out of 5 stars on Amazon. Covered in durable fabric and water-resistance rated IP67, the Go 3 makes the perfect gift for someone on the go, whether the destination is the beach or a backyard barbeque. A rubberized bottom makes it extra sturdy, and its integrated handle makes it easy to attach to a backpack. Most importantly, the Go 3 offers rich sound and decent bass for a speaker its size – a mere 3.4 x 2.7 x 1.6 inches – that lasts for up to 5 hours per charge. And, it comes in six different colors, one of which will be for everyone on your list.
Price: $49.95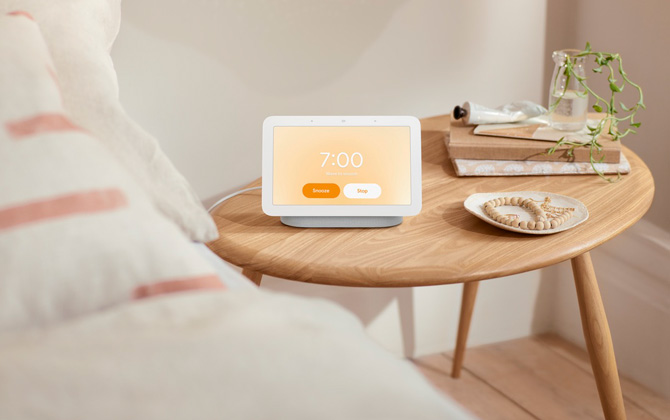 Our favorite affordable smart display: Google Nest Hub (2nd gen)
We can think of uses for Google's Nest Hub for every person, in just about every room of the house. Where don't you need to listen to music and podcasts or ask Google Assistant to answer questions and control your home? After using the Nest Hub in her home for more than six months, Techlicious Editor in Chief Suzanne Kantra's favorite place for it is bedside, where it becomes her ultimate sleep assistant. A sensor built into the display monitors sleep, automatically tracking heart rate, respiration, sleep time, and sleep quality. In the morning, you'll see your sleep-quality score and whether you (or your spouse) were snoring or coughing during the night. And, of course, it works as a voice activated alarm clock, too. The Nest Hub comes in four colors to match your loved one's décor.
Price: $99.99, currently on sale for $49.99 on Walmart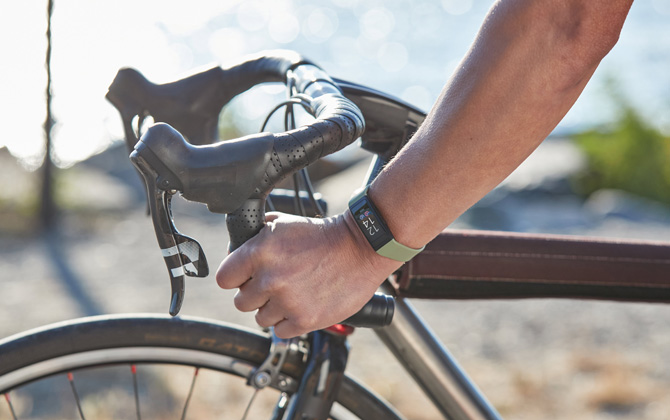 A fully loaded fitness tracker: Amazon Halo View
If you have a loved one interested in tracking their fitness and health, Amazon's new Halo View has a particularly impressive set of features for a tracker under $50. Onboard sensors monitor heart rate, blood oxygen levels, skin temperature, voice tone, and movement, including swimming (IP rated for down to 50 meters). Plus, your gift recipient will get free access for a year to Amazon's One Service (usually $3.99 per month) that includes workouts, nutrition programs, mindfulness exercises, meditations, sleep counseling, and more. The Halo View also functions as a smartwatch, delivering the time, text messages, and reminders. Battery life is seven days between charges. While the Halo View won't start shipping until 12/8/2021, the original Halo, which doesn't have a display, received positive reviews (Android Central gave it 4 out of 5 stars, TechRadar gave it 3.5 out of 5 stars), with most complaints revolving around the fact that there was no display, which the new model fixes.
Price: $79.99, on sale for $49.99 until 12/8


A fun way to capture and share photos: Fujifilm Instax Mini 7+ Bundle
For the crafty photographer on your list, they'll find everything needed to take and share photos in the box with the Fujifilm Instax Mini 7+ Bundle. In our years of hands-on testing of Fujifilm Instax cameras, we've found the Instax prints to be higher quality right out of the camera and last longer than other instant film. The Instax Mini 7+ receives an average consumer rating of 4.4 on Walmart and comes in an array of stylish, pastel colors, including Seafoam Green, Lavender, Light Blue, Coral, and Light Pink. In every box, there's a ten pack of Instax Mini film, a magnetic frame, a curved frame, a photo album, photo-hanging pegs, and batteries so that it will work right out of the box.
Price: $48.00 (green and pink only)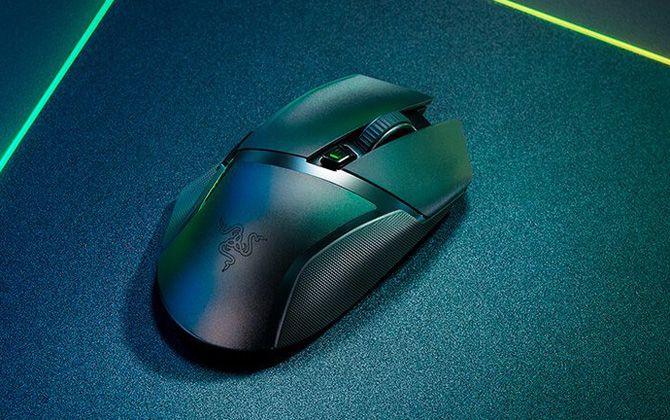 A fast and accurate gaming mouse: Razer Basilisk X Gaming Mouse
If you have a gamer you need to gift, the Razer Basilisk X Gaming Mouse is the perfect accessory. Razer consistently ranks at the top for its high-end gaming mice and other accessories, and when the company made the entry-level Basilisk X, they made sure to include the tech that makes a difference to gamers. The mouse uses HyperSpeed wireless technology for super-low click latency and offers up to 16,000 DPI for accuracy. Using HyperSpeed wireless, the mouse gets up to 285 hours per charge. Or, you can use the mouse in Bluetooth mode for up to 450 hours. For customizing the experience, there's a total of six programmable buttons. The Basilisk X gets 4.5 stars out of 5 from TechRadar, 4 out of 5 stars from Tom's Hardware, and an average of 4.5 stars from more than 11,000 consumers on Amazon.
Price: $59.99, currently on sale for $36.99


[Image credit: stocking with gifts via BigStockPhoto, Roku, Anker, Google, Cuisinart, JBL, Amazon, Fujifilm, Razer]
Tobey Grumet Segal has been reporting on technology and consumer electronics for over 15 years. She was the Technology Editor of Popular Mechanics magazine for eight years, where she covered the launches of major products like the iPod, DVD player, the DVR, and the first cellphones—then became a Contributor to Gizmodo, Gawker's premier technology blog.
---
Discussion