5 Toy Robots Your Kids Will Love
Techlicious editors independently review products. To help support our mission, we may earn affiliate commissions from links contained on this page.
Within most industries, a battle of the bots is being waged, driving these mechanical helpers to perform above and beyond anything humans thought was possible, and as we saw at Toy Fair 2016, the toy industry's bots are no exception. Whether these robotic toys teach kids a lesson in assembly and mechanics or are just meant to be friendly companions, these five bots will keep them occupied for hours.
Spin Master Meccano Micronoids
Spin Master really brought it this year in the robotic toy department, not only upping the processing power on their giant Meccanoid robot, but also introducing their new line, the Micronoids. There are three different Micronoids, including one that looks a bit like a praying mantis, and their little smiles and light up eyes are pretty enticing for little builders. These cute guys are essentially an intro to interactive robotics for kids, and they take just 45 minutes to an hour to put together.
The fun's not over when they're assembled, though- kids can program the Micronoid bots just by pressing the buttons on top of their heads. They'll then move around, squeak and dance, all at your budding roboticist's command. They can even navigate obstacle courses! And when you put two Micronoids together and you'll see them interact with each other, either dancing in synchronicity or fighting. May the best bot win!
Age: 8+
Price: $39.99
Availability: August 1, 2016
Hasbro FurReal Friends Torch My Blazin' Dragon
Torch My Blazin' Dragon is a huggable robo-dragon whose flaming bark is much bigger than his bite. Torch has a sensor on his nose that your child can pet to get a stunningly realistic reaction — his movements mimic those that the family cat or dog might make. Then again, he is a dragon, and his coolest feature is the red mist that he blows from his mouth. Let me repeat that: Red. Mist. This technology ups the adorableness.
As one might hope, this dragon's "fire breath" is more than just a fun party trick; if you place the included marshmallow on a stick near Torch's mouth, he will give it a toasty finish, and will eventually start chomping down on it. Torch is a mix of plastic and fuzz, so he's an approachable bot, and your child can pose his front legs for big dragon hugs. Torch has over 50 dialogues and sounds, so he'll keep your kid entertained for a ton of adventures.
Age: 4+
Price: $79.99
Availability: Fall 2016
Spin Master Zoomer Chimp
Spin Master's Zoomer dogs and cats are perfect for kids who want to practice having pets (or who have allergies to the real thing). And now, you can bring home a friend who's usually found in the jungle: the Zoomer Chimp. The Zoomer Chimp is a bot that's brought even more lifelike characteristics to the table. His face is actually animated- when he talks, his mouth and eyebrows move, and in characteristic chimp fashion, he'll make sure to show you his teeth when he giggles.
This little guy's got a personality! He wiggles his backside and falls backward laughing, all the while practicing certain bodily functions that will make your kid laugh like a hyena. He can stand up and balance on his wheeled legs, which is a pretty amazing robotic feat. Your child will be able to talk with the Zoomer Chimp and he will answer back with different responses each time. The Zoomer Chimp is one robot that's more fun than a barrel of monkeys.
Age: 5+
Price: $119.99
Availability: Fall 2016
Fisher-Price Bright Beats Dance & Move BeatBelle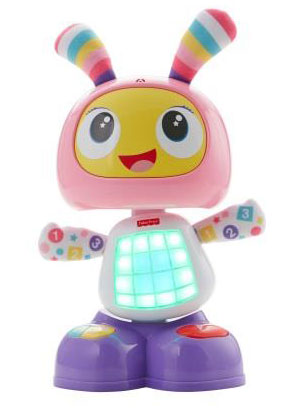 Robotic toys aren't just for the older set—Toy Fair 2016 showed us that there are also some really cute options for the infant and toddler crowd, like Fisher-Price's Bright Beats Dance & Move BeatBelle. Last year, the talking and dancing Beatbo made his debut, but now he's got an adorable sister named BeatBelle. Like her sibling, BeatBelle has a multicolor LED display on her stomach that lights up as she bounces around and plays cute songs.
She can also be set to three different modes: Dance and Move, Learning and Games and Record and Remix. BeatBelle will not only teach your child the ABCs, counting and colors, but she will also record your or your child's voice and remix it into a danceable song. Like the auto-tuners in the music industry, BeatBelle will make everyone's songs sound good.
Age: 9+ months
Price: $39.99
Availability: Fall 2016
CogniToys Dinos

CogniToys' Dinos are robots made for the age of the Internet of Things. These friendly blue, pink or green robots will connect to Wi-Fi and iOS and Android devices through an app. Just enter your Dino's unique code into the app and your child is ready to go. Because Dino is powered by IBM's supercomputer, Watson, he'll answer big questions like how far the moon is from the Earth or the capital of Michigan, just like Siri or Alexa. All your child has to do is press his tummy to talk to him and he'll listen.
Dino can tells jokes and stories, as well as remember your child's name and favorites. He also comes equipped to help your child learn through games that test their knowledge of rhyming, spelling, vocabulary and math. And like any good Internet of Things device, as time goes on, Dino will become smarter and more content will be added to his wheelhouse. Parents can adjust any content settings in the app, and even set a bedtime. From the looks of it, you'll have to because your child won't be able to stop playing with this robo-dino.
Age: 5 to 9
Price: $119.99
Availability: June 2016
Check out more of our Top Picks from Toy Fair 2016, and make sure to take a peek at these new coding and electricity toys and games, too.
[Images via Mattel and CogniToys]
Discussion