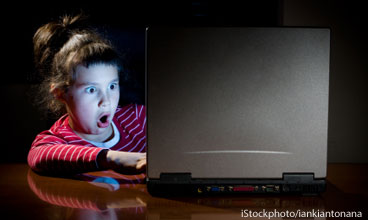 For decades, porn has been a big driver of technological adoption. It helped usher in the era of VCRs, pay-per-view movies, and even the Internet itself. And now you can even access pornography through your smartphone or gaming system. While I believe adults can make their own choices about what they choose to watch, that's not a decision I leave up to my children.
Yet blocking porn on all the myriad devices my kids have access to is no easy task. But there are tools I can use to at least make it less likely they will accidentally stumble onto inappropriate content, and let me monitor what sites they are going to and what they are searching for – and let's face it, knowing your mother is watching you is probably a big deterrent for any child.
So, here is my advice for how to protect your kids. Some of these solutions will be more successful than others. Technically adept kids (are there any other kind?) will easily find workarounds to whatever barriers I put in place. At the end of the day, keeping an eye on your children and having open conversations about what constitutes appropriate and inappropriate in your family still goes a long way – actual parenting hasn't gone out of style.
Cell phones
Cell phones are becoming more common among kids, and at much younger ages. And the newest cell phones, including most smartphones, provide web browsing similar to that of a home computer. Cell phones usage is also very difficult for parents to monitor because they are commonly used outside the home.
So you would think that cell phones would have great parental control options. They don't.
You best bet is to buy your child a phone without web browsing ability or turn off the phone's data access through your carrier (which may also limit your child's ability to send and receive email).
Each of the major carriers – AT&T, Sprint, T-Mobile and Verizon – offer free content filtering features, but with major limitations. Most do not work over Wi-Fi, on smartphones or with prepaid plans.
If your child has a smartphone, blocking access to sites is even trickier. I tried a number of parental control apps for Android, and none was able to do an adequate job. In every case the app could easily be defeated by anyone with a basic knowledge of the Android operating system.
I was more successful with the iPhone, but multiple steps are required. First, you need to install the K9 Browser (free in iTunes), which provides active screening of both mature websites and search terms. The K9 Browser is free, but $2.99 if you want the ad-free version. Then you need to turn off the Safari browser and prevent installing a new browser app in the "Restrictions" menu under "General" in the iPhone Settings. Your child will lose the ability to install any new apps, but they will have a safe Internet experience.
Computers
Macs have built-in parental controls that allow you to filter out mature content or even block access to all web sites except those that you put on an approved list. The controls can be accessed from the Mac's Settings menu.
Windows PCs don't have built-in web filtering, but you can download Microsoft's free Windows Live Family Safety 2011 for both web filtering and monitoring.
If you're looking for detailed control over what types of sites your children can see as well as robust monitoring, Net Nanny ($39.99 for Mac and Windows) is a good choice. Norton Online Family offers many similar features in both a free version, with fewer reporting features, and a $29.99 premium option.
Keep in mind that all of these porn prevention solutions can be gotten around by more technically savvy kids. Torrent sites, secure proxies and other tools can be used to access porn, even with parental control software. So look for these types of sites in the reports you get from your parental monitoring solution and, if possible, require all computer use to be done in a public area of the house.
Game Systems
Now that games systems come with integrated browsers, porn is just a few controller clicks away for your child. Fortunately, both the Sony PS3 and the Wii allow you to simply turn off the browser, which isn't really very useful on game platforms, anyhow. The PS3 also offers an optional subscription to Trend Micro's content blocking service, though at $19.99 per year, turning off the browser is the more cost-effective option.
The Xbox 360 has no browser, so there's no need for concern.