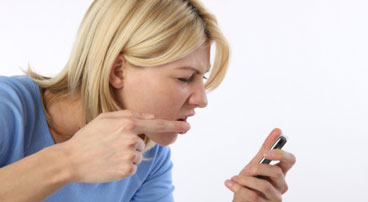 Cell phone spam is a real problem. In fact, one tech analyst writing for Forbes recently opined that the "Do Not Call List" doesn't work and estimated as many as 100 billion robocalls—calls lacking a human being on the other end—and other solicitations are made to cell phones in the U.S. every year.
Another analyst told Bloomberg that in 2011 4.5 billion spam text messages were pushed out to cell phone owners, so you can imagine by now that number is even higher.
And, don't forget about clingy exes who keep calling, incessantly harassing debt collectors or weirdos from Craigslist who won't stop texting you about the laptop you sold weeks ago.
So what can you do? Most wireless carriers will let you block at least a few numbers for free, so check with your carrier. You'll also want to find out how long the block remains in place because some carriers expire blocks. More robust blocking options are available on your smartphone.
For iOS devices
For now, iOS doesn't support call and text blocking, but blocking is coming this fall with iOS 7. According to a recent Apple announcement, iOS 7 will include "Phone, FaceTime and Messages blocking to prevent specific people from being able to contact you." And, in the meantime, you can download a silent ringtone (available in iTunes for $1.29) and assign it to any unwanted callers.
For Android devices
As for Android users, there are a few good free apps that you can immediately install on your smartphone to help.
PrivacyStar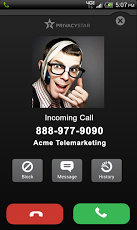 This app offers real-time caller ID, reverse call look-up, unlimited call and text blocking and the ability to report abusive callers to the Federal Trade Commission.
Once you install the app, your answer call screen is transformed. PrivacyStar shows you the number calling you, as well as buttons that let you block the call, send the caller a text message such as "Can't talk now. What's up?" or "I'll call you later" or a custom message you can define yourself. There's also a history button you can tap to see how many times the number has called you.
Its call and text blocking features let you block specific numbers, entire area codes or all private and unknown numbers. PrivacyStar automatically hangs up or delivers a busy signal to blocked callers, and texts from blocked numbers never arrive on your phone.
The reverse call look-up feature is slick and lets you scan your call log and look up any number on it. When I tested it, the app was able to identify land lines well but less than half of the mobile numbers I tried.
The free version of the app comes with ads and only gives you real-time caller IDs and reverse call lookups for one week. If you want to keep those features, you'll have to ante up for a paid subscription, which is $2.99 a month. By doing so you also lose the ads.
Price: Free at Google Play
Mr. Number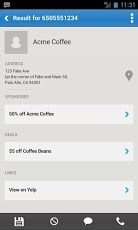 Unlike Privacy Star, this app doesn't completely highjack your regular Android call-answer screen. It just adds a small box that lists the caller's name and when he or she last called you to it.
You can go into the app, see your call log and mark calls as spam, block numbers or look them up. In fact, reverse call look-up is fantastic with Mr. Number and can identify not only home and business landlines, but more than half the mobile numbers I tried. The only minor caveat is you only get 20 reverse call look-ups for free—after that Mr. Number charges you $0.99 for 20 more.
If a business line calls you, the app performs a free Caller ID lookup to find a name. If Mr. Number figures out what company it is, the app will show you more information about the company, such as any offers it might have running, its location and a link to the website.
You can also manage your block list by specifying which numbers you always want to hang up on, send to voicemail or make exceptions for—meaning you could block every call from your hometown area code except ones coming from your mom.
Price: Free at Google Play.
Calls Blacklist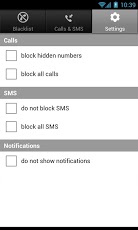 This one is a lightweight call blocker and text message filter. You can block any number from your contacts list, call log or message log, as well as add numbers manually. Plus, you can set the app to block private numbers or all calls and texts. When calls are blocked, they're sent directly to voicemail. You can also turn notifications off, so you don't have to be notified every time a call is blocked. And if you want to see who's been calling, the app keeps track of all blocked calls.
Price: Free at Google Play