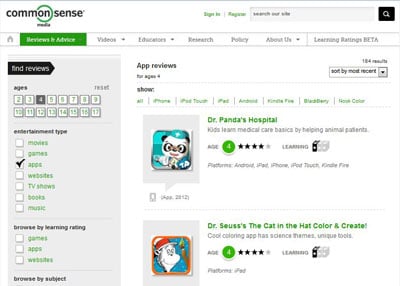 There are plenty of kids apps available for the tablets and phones in our house, but finding the good ones that have educational value or challenge my kids to think takes some legwork. So I'm always looking to see what other kids are playing and asking friends about the apps they've loaded for their kids. And there are also helpful tools I use to narrow down the choices, especially when I'm on the hunt for a particular type of app.
The Common Sense Media site and WeWantApps! iOS app (free on iTunes), which launched this week, are good places to start. WeWantApps! is limited to iOS devices, of course, but Common Sense Media includes Android, Kindle Fire, BlackBerry and Nook Color, in addition to iPad, iPhone and iPod touch.
WeWantApps! has four categories: Education, Games, Other and Books, plus the ability to sort by language —English, German, Spanish or Chinese. Common Sense Media is much more granular, letting you browse by subject (i.e. math, language & reading or arts), by skill (i.e. creativity, communication or thinking & reasoning), by genre (i.e. action games or music), and by topic (i.e. dinosaurs, fairy tales or book characters). Common Sense Media also lets you sort apps by those that parents recommend, those that are popular with kids, award winners and editors' picks.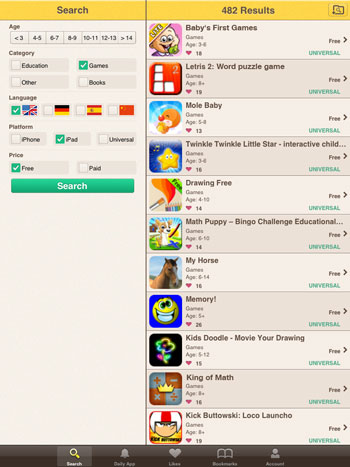 Once I have a short list, I take a look at the reviews. For WeWantApps!, that means seeing how many likes there are for an app and then clicking through to the App Store, where I look to see if there's a tab for "top in app purchases," whether there are any consistent problems people have been encountering and what the general tenor of the reviews is. Some red flags are fewer than 20 reviews, unless the app is brand new, and if most of the reviews are cookie cutter, indicating they may have been written by the developer. In general, I don't like games with in-app purchases and have turned off in-app purchases for the devices my kids use, so I pay special attention to how playable games are without the need to spend real-world cash.
Common Sense Media has real, detailed reviews. There's a short overview of the app plus ratings for Ease of use, Violence, Consumerism, Sex, Language, Privacy & Safety and Drinking, drugs & smoking, with explanations as to why an app received the rating. There's a Learning Rating, which describes what your child will learn and how engaging the material is. And, I can check out reviews by other parents and kids.
WeWantApps! also incorporates social features that let you invite friends to join and follow other WeWantApps! members to see their list of likes. As the app is new, there aren't a lot of members to follow, but I can see it becoming very useful as more people join.
Taking the time up front to find the best choices for your kids will make a huge difference in the quality of apps they end up playing.