We may earn commissions when you buy from links on our site. Why you can trust us.

Review of the Lenovo Smart Wireless Earbuds
It's not hard to find a pair of true wireless earbuds under $100 these days. But there aren't a lot of models like Lenovo's Smart Wireless Earbuds ($99.99, currently on sale for $71.99) that come packed with high-end features, like noise-canceling, custom sound profiles, multi-point pairing, and wireless charging. Unfortunately, they don't measure up to the sound quality of our top picks for the best under $100 true wireless earbuds, the JBL TUNE230NC and Soundcore Life P3, but they are comfortable to wear for long listening sessions and deliver good enough sound for casual listening.
Unboxing the Lenovo Smart Wireless Earbuds
The Lenovo Smart Wireless Earbuds come with a 2 by 1.75 by 1-inch case, which is about the same size as an AirPods case. Lenovo ups the value over other sub $100 earbuds by including a USB-C cable for charging and three additional ear tips – most earbuds at this price point come with two extra sets of eartips.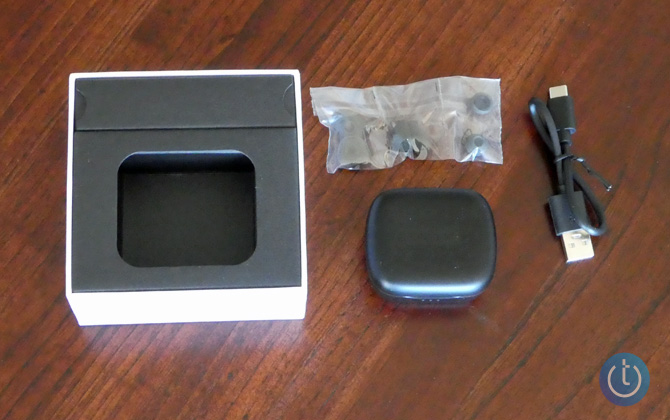 The styling is similar to AirPods — a pipe style — but the Smart Wireless Earbuds have more angular lines, and the pipes are longer and thicker. As a result, the Lenovo earbuds are more noticeable when you wear them. However, they weigh the same as the AirPods Pro at 4.5 grams per bud. You can choose from black, which has a pearlescent graphite finish on the outside, and white, which has a matte silver finish on the outside.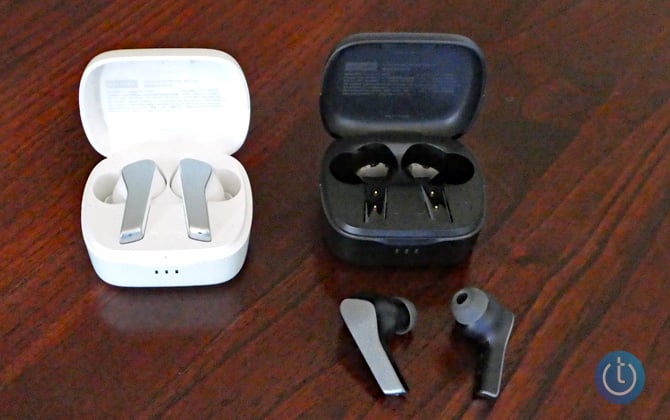 The Smart Wireless Earbuds are IPX4 rated, making them sweatproof, but you wouldn't want to drop them in the pool.
Setting up the Lenovo Smart Wireless Earbuds
If you have an Android phone, the Smart Wireless Earbuds will SmartPair through a popup window when you open the case. For Windows 10 and 11 devices, a pop up will appear when you choose to add a Bluetooth device. And for Apple devices, you need to press the function button on the case for three seconds, and the earbuds will become visible in Bluetooth settings for pairing.
Since the Smart Wireless Earbuds have Bluetooth 5.2 and support multi-point pairing, you can pair the earbuds to a second device by pressing and holding the function button for three seconds and pairing through the device's Bluetooth settings. The whole process is simple.
Once you have your Smart Wireless Earbuds paired, you'll want to download the Lenovo Smart Wearable app to access advanced features, including customized sound settings and earbud controls.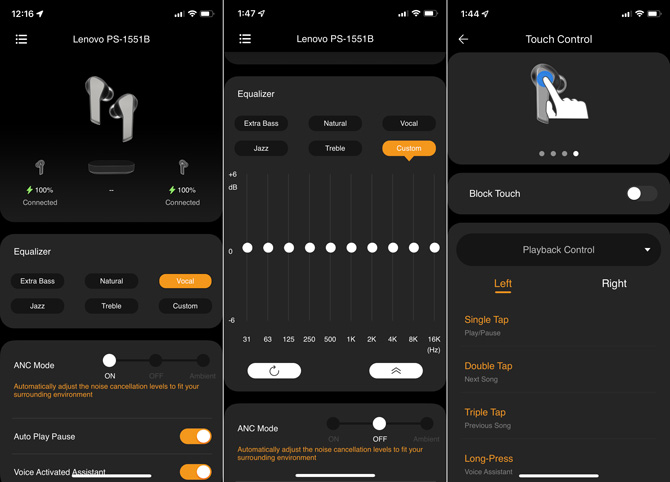 The app offers five equalizer modes in the app – Extra Bass, Natural, Vocal, Jazz, Treble – or create a custom listening mode. For the Custom mode, there is a 10-band equalizer that gives you plenty of flexibility to tweak the sound. The app also lets you turn on/off Active Noise Canceling (ANC) or set it to Ambient mode, which allows external noises that Lenovo's algorithms determine to be important – such as car horns or train announcements – to flow through.
The app is also the place where you can customize the on-earbud touch controls. Each bud can have four functions assigned to it – a single tap, double tap, triple tap, and a long press – to control playback, calls, and voice assistant. You can also turn on Auto Play Pause, which will start/stop audio when you insert or remove an earbud.
Finally, you can use the app to find your earbuds if you lose one or both when they are out of the case. It works by playing a loud dingy sound on the earbuds, so you'll have to be close to the buds to hear it, there is no directional finder.
Using the Lenovo Smart Wireless Earbuds
A small indent below the top edge of the case makes opening very easy (you'd be surprised how hard some cases are to open). Similarly, extracting the buds is as simple as sliding the stems to the side, and they pop out. The magnets inside the case, which ensure the buds are seated properly for charging, have enough, but not too much force, to keep them in place.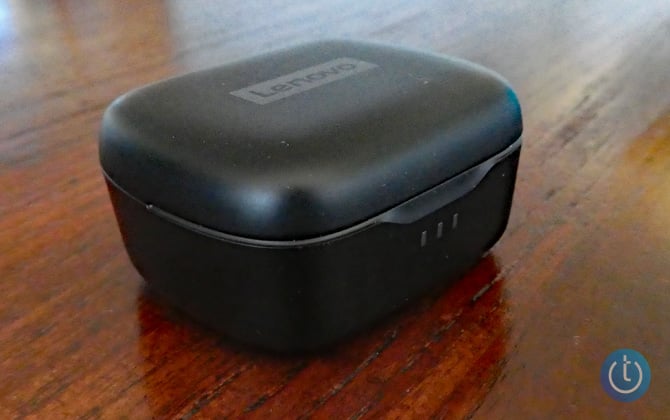 With four eartip sizes to choose from, it's easy to make the earbuds fit properly and get a tight seal. In addition, the buds are easy to insert and feel secure when they're in place. Over long listening sessions, there is minimal ear fatigue.
The on-bud controls are capacitive touch and very sensitive. This is great if you're sitting at your desk, but there's a learning curve if you're walking or working out. The trick for double and triple taps is to listen for the popping noise before initiating the next tap, but wait too long, and you've activated the single tap control. I never did quite master the technique while exercising.
I paired the Smart Wireless Earbuds with my Windows 11 laptop and my iPhone 11 Pro to test the multi-point pairing feature. The earbuds flawlessly and immediately switched to my phone whenever a call came in and back to my computer for music when the call ended.
Lenovo Smart Wireless Earbuds audio quality
To test the audio quality of the Lenovo Smart Wireless Earbuds, I listened to hours of music streamed from my iPhone 11 Pro in lossless CD quality through the Apple Music app, comparing them to our current sub-$100 picks, the JBL TUNE230NC ($99.95) and Soundcore Life P3 ($79.99), as well as more expensive models including the Jabra Elite 85t ($229, on sale for $149), LG Tone Free FP9 ($199, on sale for $139), and Anker SoundCore Liberty 3 Pro ($169). I also tested call quality against these models with my co-worker from indoor locations and on busy New York City streets.
From the top left clockwise: Soundcore Liberty 3 Pro, LG Tone Free FP9, Jabra Elite 85t, Soundpeats H1, JBL TUNE230NC, Lenovo Smart Wireless Earbuds, Soundcore Life P3.
The Smart Wireless Earbuds have a wide dynamic range with distinct bass, but the buds have a small sound stage, and the overall effect is flat. You can improve the sound out of the box by turning on the Vocals EQ or create a custom profile with the 10-band EQ. These modes widen the sound stage and make listening to music on regular-quality streaming services, like Spotify acceptable. The Extra Bass mode just makes the lows louder and muddy. In comparison, the JBL TUNE230NC earbuds have an immersive sound stage and rich, balanced sound across all frequencies. I would set the Soundcore Life P3 earbuds above the Lenovo earbuds as well, with their ability to deliver resonant bass, textured mids, and airy highs.
Unfortunately, turning on active noise canceling or ambient mode impacts the audio quality. Most noticeably, the sound stage shrinks, and the overall experience is even flatter. The modes are well worth it, though, if you're traveling by train or walking busy city streets. Repetitive noises are noticeably reduced for more pleasant and less fatiguing listening. You'll want to make sure you turn these modes off when you're ready for quiet listening.
In general, call quality is acceptable and in line with the other noise-canceling true wireless earbuds that I tested head-to-head. With the Lenovo buds, the caller's voice sounds slightly distorted, and your voice sounds a little muffled to your caller. The audio quality is best for the person on the other end when noise-canceling is turned off – even if you're talking on a busy city street. However, noise-canceling makes a big difference on your end when in loud environments, almost as good as sitting in a quiet office. So you're going to have to pick whose call audio you want to prioritize when deciding whether to use the noise canceling feature.
Lenovo Smart Wireless Earbuds battery life
The Lenovo Smart Wireless Earbuds have average battery life, getting up to 7 hours per charge. If they're running low, you can pop them in their battery case for 10 minutes to get an hour of playtime. The case holds enough capacity to charge the buds up to three times, for a total of 28 hours of playtime if you're starting with fully charged buds. You can charge the case with any USB-C cable or pop it on a wireless Qi charger.
The bottom line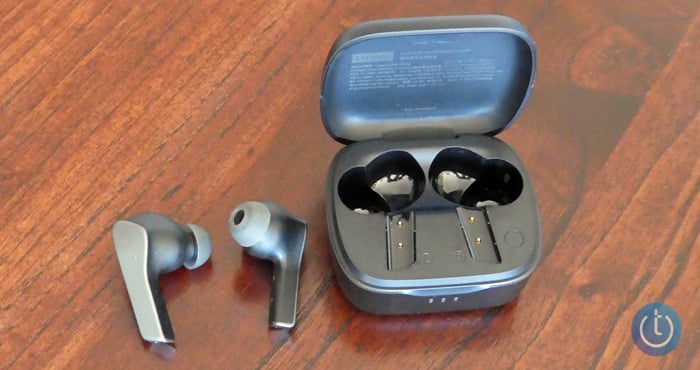 There will be compromises when buying true wireless headphones for under $100, whether it's in audio quality or features. For instance, the JBL TUNE230NC doesn't have wireless charging and the Sound Life P3 doesn't support multi-point pairing. What the Lenovo Smart Wireless Earbuds deliver is a wealth of convenience features not found on many sub-$100 true wireless buds, including our top picks, but the sound, while fine for casual listening, isn't as rich or immersive. So, if the features are what you value most, go ahead and grab a pair. But for audiophiles on a budget, they're hard to recommend over the similarly priced JBL TUNE230NC and Soundcore Life P3.


[Image credit: Techlicious]
For the past 20+ years, Techlicious founder Suzanne Kantra has been exploring and writing about the world's most exciting and important science and technology issues. Prior to Techlicious, Suzanne was the Technology Editor for Martha Stewart Living Omnimedia and the Senior Technology Editor for Popular Science. Suzanne has been featured on CNN, CBS, and NBC.
---
Discussion