Samsung Epic 4G Review on Sprint
Techlicious editors independently review products. To help support our mission, we may earn affiliate commissions from links contained on this page.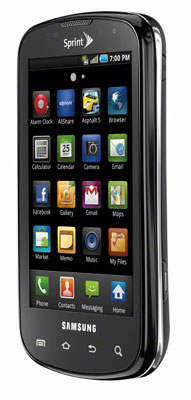 The Samsung Epic 4G from Sprint shares the same underlying technology as the Galaxy S kin—the Samsung Vibrant from T-Mobile and Samsung Captivate on AT&T. But the Samsung Epic 4G adds a physical keyboard, Wi-Fi hotspot capabilities, a front-facing camera and the potential (if you can get it in our area) for 4G connection speeds, making it the best featured phone in the Samsung line-up and, arguably, the best featured phone on the market, period.
How it feels in the hand
The Samsung Epic 4G is not a small phone (it does have a 4-inch display and a slide-out keyboard, after all). At 4.9 inches 2.54 inches x 0.56 inches and 5.46 ounces (155 grams), it is among the largest phones on the market, and the keyboard adds a full 1.2 ounces over thhe Samsung Vibrant. But the rounded corners and textured back provide a sure grip, both with the keyboard opened and closed. The weight distribution is also markedly better than the BlackBerry Torch (AT&T), which feels quite top-heavy with the keyboard opened.
Display and video content
The Samsung Epic 4G offers the same beautiful (800 x 480) 4-inch display as the Samung Vibrant and Captivate, with vibrant colors and terrific brightness. While not quite as big as the Motorola DROID X (Verizon) or HTC EVO's (Sprint) 4.3-inch screens, you really don't notice a difference in day-to-day use. And compared to the Apple iPhone 4 (AT&T) , I would choose the Vibrant's larger screen (4 inches vs 3.5 inches) over the iPhone's higher resolution (960 x 640). There simply is no comparison to the BlackBerry Torch's dull 3.2-inch, 360 x 480 display.
Web browsing
The 4-inch screen and vibrant colors make web browsing a pleasure. But the Samsung Epic 4G will not have Flash until Sprint rolls out Android 2.2 (Froyo), rumored for end of September. If you have it in your area, 4G will make web browsing somewhat faster, though we won't be able to do a true test until Sprint rolls out its 4G network in New York City later this year. Other testers have found limited benefits to 4G over 3G, and this will vary depending on your location.
Camera and video recording
The Samsung Epic 4G has a 5MP camera, 720p video recording and TV-out output capabilities. However, unlike the Vibrant, the Epic 4G includes an LED flash. I have mixed feeling about the usefulness of a flash cellphones. Sometimes it's the only way to get a shot in dark conditions. On the other hand, your photos are almost guarranteed to be washed out.
Overall, I found the shots on the Epic 4G to be very good for a cell phone. Colors were more pronounced and there was less noise than on the DROID X with its 8MP camera. Though Apple still rules the roost in cell phone picture quality with the iPhone 4.
Like the other Galaxy S phones, camera menus were not intuitive, with similar functions perplexingly divided into different navigation menus. The variety of shooting modes and scene options, as well as some fun cartoon effects, were great once you found them.
The 720p video recording was also slightly better than on the DROID X, but I would still opt for a standalone camcorder if I were filming anything I wanted to save for posterity.
TV-out is of limited use—the phone will stream personal photos and videos, YouTube and the Internet to a TV, but not purchased movies.
New for the Galaxy S line on the Epic 4G is a low resolution VGA (640 x 480) front-facing camera. When used with the included Qik app, you can use the Epic 4G for mobile video chat.
While mobile video chat is great in theory, in my testing the faces were bizarrely stretched and there was a delay of more than a second during transmission. It's nowhere near what you would expect if you're used to Skyping on your computer. Testing over Wi-Fi reduced the delay, but created new issues with sound not wokring on one end.
Keyboard and Navigation
The big news with the Epic 4G is its QWERTY keyboard that is large enough to include a separate row along the top for numbers. like you would find on a standard computer keyboard. The extra row means not having to constantly switch back and forth between numbers and letters using a function key when typing passwords or other types of combined text. Something I see as a highly desirable feature on the Epic 4G.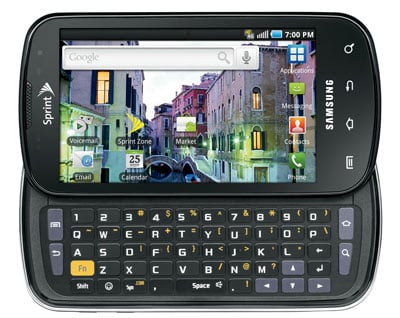 What I was not as fond of are the flattened keys, which make it harder to touch-type. In the area of key design, the BaclkBerry still owns the title.
For most entry, I prefer the virtual keyboard on the touchscreen. I found the keyboard very easy to use, especially when the phone is held in landscape mode, and the built-in Swype made virtual typing a breeze. And once you get used to Swype I don't think you'll miss having real keys.
Navigation was very similar to other Android phones, with seven panels, each customizable with various widgets and apps. It's an intuitive system and was quite responsive to my finger movements. There are some minor quirks with the Samsung customization, such as separate menus for Samsung widgets and Android widgets, but nothing earth shattering.
In an ill-advised attempt at sleekness, the Epic 4Gs' touch-sensitive main navigation buttons—for Menu, Home, Back and Search—become invisible after a few seconds of not actively using the device. Not the most user friendly feature and one, thankfully, that is not present on the Vibrant.
Mobile hotspot capability
The Samsung Epic 4G offers mobile hotspot capabilities in both 3G and 4G modes. I used it extensively during my recent vacation when I had to get work done and there was no broadband accessed by the hotel. It worked exactly as it should, with fast connections over the 3G network and surprisingly little drain on the battery. After two hours, I had only used 25% of the battery's power (Note: 4G connections are notorious for draining considerable power, based on reports from the HTC EVO).
Storage
The Samsung Epic 4G comes with 16 GB microSD card and will support up to a 32 GB microSD card. Plenty of room to store your library of songs, videos and photos.
Battery life
Under normal (for me) conditions with occasional calls, web browsing and app usage, the Samsung Epic 4G lasted me through the day.
Pricing and availability
The Samsung Epic 4G is available at www.sprint.com for $249.99 with a new, two-year customer agreement. Sprint also requires an additional $10 montly fee for 4G access on the Epic whether you use 4G or not—even if 4G is not available in your area!
Sprint justifies the charge by saying that 4G users will consume more data. But given the 4G network's limited coverage and largely moderate speed benefits, this is a stiff price to pay.
Should you buy it?
On paper the Samsung Epic 4G is the most full-featured phone on the market. It throws everything you could possibly want into its slightly chunky body—fast processor; large, bright display; physical keyboard; hotspot capabilities; front-facing camera; and 4G capabilities. And it is a very nice phone...but sometimes you can have too much of a good thing when it comes to size and price.
The keyboard on the Epic 4G adds more than an ounce of weight to its sister phones, the Vibrant and Captivate, and 4G coverage is largely hit or miss (mostly miss right now), Considering that the Vibrant is now available on Amazon for $49 and the Captivate for Free, it becomes hard to justify the EVO 4G's $249 price tag. If the Epic 4G is the phone you want, it may be worth waiting a month or so to see if the price drops.
Detailed Specs
Talk and Standby Time Talk time: Up to 6.5 hours Standby time: Up to18 days standby
OS: Android 2.1, update to Android 2.2 this fall (probably)
Weight: 5.46 oz
Dimensions: 4.9 x 2.54 x 0.56 inches
Battery: 1500 mAh
Display: 4.0" WVGA AMOLED (800 x 480)
Video: 720p HD Capture, HD Playback via TV-out or DLNA
Camera: 5.0 megapixel, Digital Zoom, Auto Focus, Power LED flash and front facing VGA camera
Processor: Samsung 1GHz Cortex A8 Hummingbird Application Processor
Memory: 1 GB on-board, 16 GB microSD pre-installed, supports up to 32 GB microSD
Wi-FI: 802.11 b/g/n
Wi-Fi Hotspot: Yes, 3G/4G
Other: Digital compass, six-axis motion sensor, proximity sensor, light sensor, GPS
Discussion