We may earn commissions when you buy from links on our site. Why you can trust us.

BlackBerry Torch Review (model 9800 on AT&T)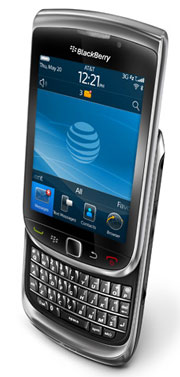 The BlackBerry Torch 9800 launches today on AT&T for ($199 with the usual two-year commitment). The Torch is Research In Motion's (RIM) first slider smartphone, joining the ranks of the DROID on Verizon and the MyTouch 3G Slide on T-Mobile. But more important than the sliding keyboard, the BlackBerry Torch is RIM's first phone utilizing the BlackBerry 6 operating system (6 OS), which brings BlackBerry out of the dark ages and adds capabilities more on par with the iPhone and Android operating systems.
RIM has a lot riding on the Torch (and BlackBerry 6 OS) launch. For years, RIM was the undisputed leader in smartphone sales. But it has been losing marketshare swiftly to the iPhone and Android devices, which offer bigger screens, more advanced browsers and huge libraries of apps. Even business users, RIM's bread and butter, are defecting en masse.
So will the BlackBerry Torch and the BlackBerry 6 OS be able to pull RIM out of it's decline?
Based on my testing over the last two days, the answer is "No". Slow it, maybe, as current BlackBerry users will find a lot to like about the new device and 6 OS. But the Torch is a dollar short and a day late to be a true competitor in the smartphone game.
How it feels in the hand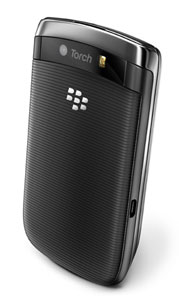 The BlackBerry Torch is a very nicely made phone. It feels solid in your hand, with metal trim and a smooth sliding mechanism. This is certainly one phone you won't be ashamed to pull out in a business meeting.
But that sliding keyboard adds a lot of weight. At 5.7 ounces (161 grams), the Torch is heavier than the DROID X (5.5 ounces, 155 grams) even though the DROID X display is more than an inch larger (4.3-inches vs. 3.2-inches on the Torch), and the Torch is more than an ounce heavier than its sibling, the BlackBerry Tour (4.6 ounces, 130 grams).
Display and video content
The BlackBerry Torch is a disappointment in the display department given its role as RIM's flagship touchscreen product. The Torch's 3.2-inch display is smaller than its competitors—the MyTouch 3G Slide is 3.4 inches, iPhone 4 display is 3.5-inches and the Samsung Vibrant, HTC EVO and DROID X are all 4-inches or larger. And the Torch display's resolution (360 x 480) is the same as on the BlackBerry Bold and Tour, which launched over a year ago, though those devices come with much smaller 2.5-inch displays. Brightness-wise, the Torch was easy to read in daylight, but colors were was washed-out compared to the other high-end phones.
The Torch can play videos in many formats, but cannot handle Flash and there is no video-out.
Web browsing
The BlackBerry 6 OS browser is a HUGE improvement over previous BlackBerry operating systems. It renders pages properly and offers a "tabbed browsing" feature that allows you easily open new sites and switch between them. Because BlackBerry 6 OS does not support Flash (and there are no plans announced to do so), videos on many sites (including Techlicious.com!) will not appear.
The browser also has pinch-to-zoom capabilities, which comes in very handy on the 3.2-inch display. Tapping on the text in a page will automatically zoom and the text will be wrapped in a column—another nice feature.
However, the Torch's anemic processor was slow to load pages and caused choppiness when scrolling. Not terrible, but not great either.
Camera and video recording
The BlackBerry Torch sports a 5 MP camera with LED flash and autofocus, but video recording is only standard definition. Quality was nothing to write home about, though more or less in-line with most other smartphones (except the iPhone 4, which really excels in this area). As might be expected, given BlackBerry's business focus, photo options and editing capabilities are very limited as well.
There is no front-facing camera, which is a real shame. Video chat is a natural application for BlackBerry users and would make the Torch a real game changer in the business world.
Keyboard and Navigation
The Torch is desperately trying to straddle the old BlackBerry world of perfectly designed typing machines with the new world of touchscreen app-based devices. And, in the process, ends up being subpar in both.
For BlackBerry die-hards, the slide-out keyboard is more difficult to access than the front-and-center keyboard of their trusty Tours, Curves and Bolds. And RIM also had to flatten the keys a little on the Torch with the new slider design, resulting in a less satisfactory tactile experience. Don't get me wrong, the Torch's keyboard is still one of the best on the market. It's just not as good as the other BlackBerry models.
Those looking to use the virtual keyboard instead, are in for an even bigger disappointment. The small screen made typing on the virtual keyboard a typo-fest. Not as much of an issue in email, where the BlackBerry's spelling correction software did a good job of cleaning things up. But for typing urls in the browser it was a real hassle. The Torch would benefit greatly from Swype or a similar app.
Navigation, even on its most sensitive setting, felt very heavy on the Torch compared with Android of iOS. Swipes needed to be bigger to register and more motions were required to scroll through panels or lists—16 swipes to scroll through my contacts on the Torch versus 6 swipes on my Android-based Samsung Vibrant.
I am not a fan of BlackBerry 6 OS's predetermined panels—All, Frequent, Favorites, Media and Downloads—which provide little flexibility for customization. And I often found myself scratching my head trying to figure out how to do basic functions on the Torch. Occasionally, I even had to resort to the help menu on the phone (Gasp!). Something I've never done on an iPhone or Android device.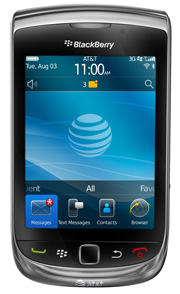 One bright spot is the BlackBerry 6 OS "universal search" feature. Touch the little magnifying glass in the upper right corner and start typing. The Torch will find matching items from your contacts, messages, apps and even the web.
Similar to Android, the Torch also has a convenient notification bar at the top to display alerts. The bar can be pulled down to see alert details.
Applications
The BlackBerry App World has far fewer apps available than iTunes or the Android Marketplace. Whereas you may find thousands of apps in any given iTunes category, you may find only a few dozen in the App World. And this gap is increasing quickly.
I experienced a few bugs during my download attempts. Some apps failed during download, and when I aborted downloading an app, a message still popped up telling me that I had successfully installed it.
Running apps is also not seamless on the Torch. Though the Torch can multitask, the "ticking clock" indicator came up frequently, locking the phone until some app finished doing something or other. RIM probably would have been wise to go with a more powerful processor.
BlackBerry 6 OS does go much further with integrating social networking features into the phone. You can now pull Facebook and Twitter updates into your message folder and updates will appear in the notification bar. You can also sync contacts with Facebook, though your Facebook account has to use the same email address as the email account associated with your contact folder in order to work.
BlackBerry 6 OS does not wirelessly sync with Google Calendar, though AT&T says they will be adding support later this fall.
The Torch, of course, includes BlackBerry Messenger, which lets you instant message with other BlackBerry users.
Finally, the new BlackBerry Desktop Software has a new feature that lets sync your music wirelessly through your home Wi‐Fi network. A rare instance where BlackBerry is leading the smartphone pack.
Mobile hotspot capability
The Torch can be tethered to a laptop using either Bluetooth or a USB cable for use as a wireless modem.
Storage
The Torch comes with 4 GB on-board and a 4 GB microSD card, and will support up to a 32 GB microSD card. This should be plenty for most folks, but is still less than the 8-16 GB of on-board memory offered in the DROID X and Samsung Vibrant, respectively.
Battery life
In our experience, the Torch's charge lasts roughly as long as most other smartphones—about a day or so, under typical usage.
Pricing and availability
The BlackBerry Torch is available at www.att.com and at Best Buy, Walmart and RadioShack stores for $199.99 with a new, two-year customer agreement. And Amazon currently has a special offer of only $99 with a two-year agreement.
Should you buy it?
If you are a BlackBerry fan who doesn't want to give up their physical keyboard, yet would like the ability to do some real web browsing and integrate with your social networks, the Torch is worth a look. But, you need to be comfortable with the reduced feel of the keys, extra weight and relative inconvenience of the slide-out keyboard.
It's hard to imagine any Android or iPhone user choosing to switch to the Torch. The only significant advantage the Torch provides is the keyboard, but if you're already on an iPhone, having a physical keyboard probably wasn't that important to you anyway. And given the Torch's clunky OS, tiny display and puny, by comparison, app store, there are some good reasons to stay away.
---
Detailed specifications:
Display: 3.2" 360 x 480 capacitive touch screen display
Camera: 5.0MP camera with flash, auto focus, image stabilization and geo-tagging
Memory: 512MB Flash memory, 4GB on‐board memory, microSD/SDHC memory card slot (4GB card included, cards up to 32GB supported)
OS: BlackBerry 6 OS with integrated search and new UI
GPS: Yes
WiFi: 802.11 b/g/n
Band/Modes: GSM/GPRS/EDGE: 850/900/1800/1900 MHz; HSPDA/UMTS: 800/850/1900/2100 MHz
Dimensions: Approximately 4.4" x 2.4" x 0.57"
Battery: 1300 mAHr Lithium cell
Talk and Standby Time Talk time: Up to 5.5 hours Standby time: Up to 17 days standby

Discussion