Microsoft's free built-in security software for Windows PCs, Defender Antivirus, provides excellent anti-malware protection for Windows PCs. However, it lacks some extras found in third-party products, including advanced phishing protection, robust parental controls, and extra features like a VPN. So, it may be tempting to use another anti-malware program alongside Microsoft Defender.
But just because you can run two anti-malware programs, should you? There are potential benefits and drawbacks to doing so.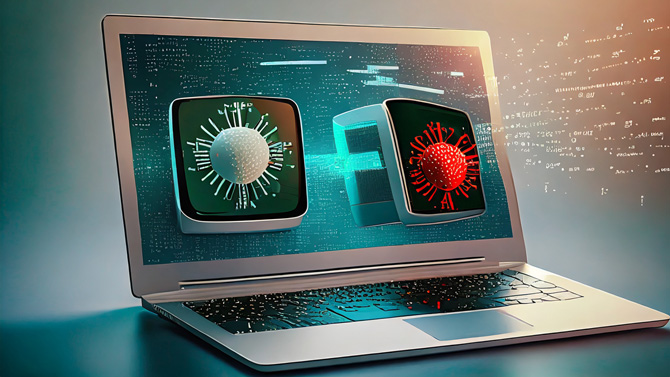 The evolution of Microsoft Defender
Years ago, I wouldn't have recommended using Microsoft Defender as your anti-malware protection. Its ability to protect against common malware threats was fair to middling, at best, which is why so many competitive products – like Norton, McAfee, and Bitdefender – entered the market. This forced consumers to make a choice between putting their PC at risk or paying extra money every year for a third-party security solution.
More recently, Microsoft has gotten serious about providing Windows users with the protection they deserve. The latest version of Microsoft Defender now receives among the highest marks from third-party testing services, like AV-Test, and is a solid free choice for protection against malware.
Yet, while Microsoft Defender antivirus protection is robust, it doesn't offer the features of many other security suites, such as a VPN or parental controls. So, there may still be a reason why you would choose to run another anti-malware program alongside or instead of Microsoft Defender.
If you choose to run Microsoft Defender and your other security program at the same time, Windows only allows you to use one for real-time scanning to minimize conflicts and resource issues – Microsoft Defender will only run for occasional system scans. Yet, even so, there are reasons why you may not want to take this approach.
Read more: Crypto-Malware: The Hidden Reason Why Your Computer Is Slow
Running multiple anti-malware programs: the risks
While the idea of doubling up on security might sound appealing, I don't recommend running Microsoft Defender alongside another third-party antivirus program.
1. Resource consumption
Even the best security programs are resource-intensive since they're always working in the background to ensure your safety. So, running multiple anti-malware programs simultaneously can lead to significant system slowdowns. Those periodic Microsoft Defender scans "shouldn't" cause issues, but it's hard to be sure, especially for older systems with less RAM and slower drives.
2. Compatibility issues
Security programs can conflict with each other and may even identify each other's processes as a potential threat. This can lead to a constant battle between the programs, which can disrupt your computer's operation and even diminish protection.
3. False positives
No antivirus protection is perfect. When you use multiple programs, the likelihood of false positives – incorrect identification of harmless files or programs as threats – can increase.
When multiple anti-malware programs might be warranted
There are a few scenarios where using an additional security program can help you identify a security issue or provide extra security.
1. Provide a second opinion
While your primary security scans should be run by one anti-malware program, it can be helpful to perform on-demand scans when you suspect malware. Running a scan with another anti-malware program can help you rule out threats that your primary antivirus might miss.
2. Specialized tools
Specialized security tools, like those designed for specific malware removal, parental controls, or to combat phishing, can complement your main antivirus program.
3. Additional layers of security
You might opt for additional security software if you have specific security needs, such as running a small business from home. In this case, the extra layer of protection may be worth the tradeoff for any potential performance impact.
Best practices for using multiple security programs
If you decide to use Microsoft Defender alongside another security program, there are things you can do to minimize conflicts and ensure effective protection.
1. Choose compatible programs
If you decide to use a second anti-malware program, select one that is known to work well with Microsoft Defender. Research compatibility issues and read user reviews.
2. Choose a program with security at least as good as Microsoft Defender
It should go without saying that it is counterproductive to replace Microsoft Defender with an anti-malware solution that offers less effective protection. Independent anti-malware testing labs like AV-TEST are an excellent source of continually updated information on the various anti-malware options, including Microsoft Defender.
3. Regularly update both programs
Ensure that both security programs are up to date with the latest virus definitions and security updates. Outdated software is more vulnerable to threats.
4. Monitor performance
Keep an eye on your computer's performance when running multiple anti-malware programs. If you notice significant slowdowns or conflicts, consider disabling one of them.
Final thoughts
While it's generally not advisable to run Microsoft Defender alongside another anti-malware program continuously, there are situations when using it to get a second opinion can be beneficial. The key is to choose compatible software and monitor your computer's performance to avoid conflicts.
[Image credit: Concept of a laptop running two anti-malware programs simultaneously via Adobe Firefly]
For the past 20+ years, Techlicious founder Suzanne Kantra has been exploring and writing about the world's most exciting and important science and technology issues. Prior to Techlicious, Suzanne was the Technology Editor for Martha Stewart Living Omnimedia and the Senior Technology Editor for Popular Science. Suzanne has been featured on CNN, CBS, and NBC.