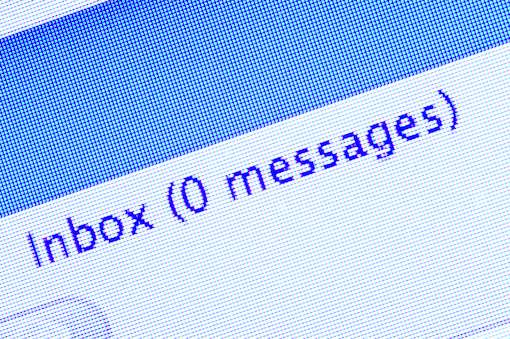 Email is no longer just about communicating with friends or colleagues. These days, our inboxes are also the repository for office tasks, travel plans, social network notifications, shopping offers, and login info for dozens of other services. But unless you're militant about deleting or sorting emails as they arrive, it's likely you're still hundreds to thousands of emails away from the promised land known as inbox zero.
The best new apps for sorting and managing your email have one thing in common: They help you quickly clear messages, whether it's into a folder or straight into the digital trash.
From Google's brand new Inbox app, which retools the email interface, to an app that deals with newsletter subscriptions in one fell swoop, these email apps sort out the inboxes that have become the hub of nearly all our online activity.
Inbox by Google
Gmail users have seen a fair number of redesigns since Google's email service launched a decade ago. Google's spam filters are already the best at clearing the stuff. Priority Inbox separates the inbox into important and less important mail. Last year's introduction of the tabbed inbox further sorts less important email into categories such as promotions and updates.
Now Google has launched Inbox, a stand-alone app for Gmail accounts that drills deeper into organizing your email. Email is still bundled by conversation thread, but the new interface displays messages in auto-sorted bundles: travel, finance, promotions, social and updates, plus individual email that's addressed to you personally. Tap on a category to see every new email by its subject line.
The travel and finance categories are particularly useful additions to the original tabbed inbox. These categories make it easy to find itineraries and transaction confirmations.
Even more useful is the ability to check off whole bundles of email without having to open them, such as updates (which include social network notifications and order confirmations) or promotions (offers that aren't particularly relevant). At the top of each bundle is an option to check it as done, which sends it to an archive you can peruse later, or move the email to another folder.
If you open a message, more one-click options await. You can pin important email so that it stays at the top of the inbox, snooze messages so they reappear at the top of the inbox at a specified time or checkmark them done (an action that delivers a particular thrill of achievement).
If a conversation thread contains images, calendar appointments or PDF attachments, a preview appears beneath the subject line, handy when you're scanning for particular files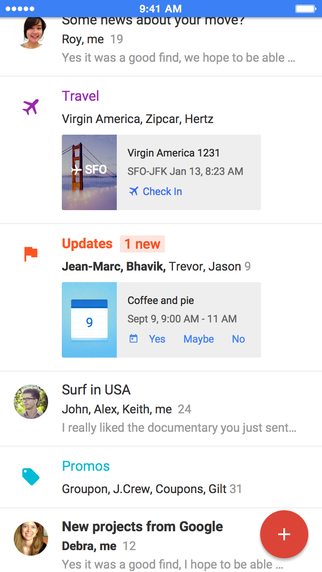 In this new, minimal interface, a + icon in the bottom right serves as the compose function for new email, reminders or contacting your last three messaged contacts. Google's instant messenger has been moved up to the toolbar, where you can access other Google services such as Calender or YouTube as well as toggle a switch to see only pinned messages. All other features, including sent mail, drafts and custom folders, are hidden away in a drop-down settings menu at the top left.
An app for iPhones and Android phones offers added features including swipe actions to deal with email. Like the desktop app, the apps let you checkmark a bundle of email as done or tap on the bundle to view all email; then swipe right to check off or left to snooze until a particular time. On the phone, you can also set the snooze alarm to occur at a specific place by GPS location — handy if you want an email pop-up at the office or a shopping offer to reappear when you're back home.
Supports: Gmail
Great for: Sorting email without having to create complex rules; scanning a busy inbox for important information and attachments
But: It's only for Gmail accounts
Overall: Accurately sorts emails into an intuitive interface that makes it very easy to take action on the important emails and clear the less important ones
Get it: Sign up for a beta invite at inbox.google.com; download the smartphone app from Google Play or App Store.
Mailbox
If you deal with email mostly on your phone, Mailbox offers a sleek, compact interface with an impressive number of ways to deal with an email based on lengths of a swipe. From the inbox — that is, without opening an email — you can swipe to the very right of your screen to mark the email as done or swipe to a slightly nearer right to trash it. Swiping to the very left lets you add the email to a list to buy, read, watch or any number of custom lists (such as Work or Logins, in my case), while swiping to the mid-left snoozes the email for a variety of time periods, including Someday (set by default to three months later).
Granted, learning the right length of swipe to do what you want takes some doing, but once you get the hang of it, checking off dozens of emails without having to click away from the inbox becomes incredibly simple.
Auto-Swipe alerts the app to start learning what you normally swipe on. In time, it'll prompt you to ask whether it should "always snooze till later," for example, for your Twitter updates.
Supports: Gmail and iCloud
Great for: Gmail and iCloud mail users who deal with email mostly on their phones, although there's also a beta desktop client for Mac OS X Yosemite users
But: Emails are not sorted; they appear in a single list, where updates mingle with newsletters and conversations with friends. If you use Gmail with the tabbed inbox, Mailbox can seem chaotic.
Overall: It offers excellent functionality packed into the swiping gesture that's so natural on mobile, but you'll find fewer organizational features than in Inbox or even regular old Gmail.
Get it: iTunes and Google Play
Unroll.me
If you're suffering from subscription email overload, Unroll.me offers an incredibly swift means of dealing with them all. Once you've linked Unroll.me to your email, it presents all the services that are sending you regular emails (221 for me) plus the option to unsubscribe to them individually from a single page.
After that, any remaining subscription emails get condensed into a single email that Unroll.me sends you once a day. After all, who knows when that Groupon email might contain the mythical deal of a lifetime?
Supports: All email services
Great for: Managing subscription email cleverly; you can still get wind of offers without having them mixed among email that requires action
But: Unroll.me alone probably won't be enough to completely streamline your email
Overall: It's an easy, intuitive way to bundle subscription email you want and get rid of the ones you don't.
Get it: Unroll.me
Mailstrom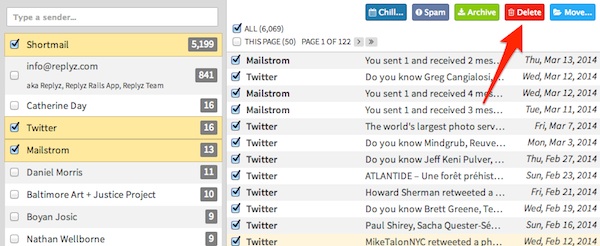 While the other services on this list clean up your email for you by sorting bulk mail into folders you can check later, Mailstrom goes deeper. Once synced to your email account, it scans and analyzes your inbox so that you can view it by different parameters — sender, recipient, subject, when it was received and more — and do the bulk sorting yourself.
It's an enlightening way to view your emails. You can dig up forgotten emails from particular senders or recipients or see what month of the year you've received the most email.
Mailstrom also provides a much quicker way to bulk delete. For example, you can delete everything from, say, your telecoms provider, especially if it was sent last year, or you can delete every email pertaining to a particular subject line, no matter who the senders and recipients are.
Mailstrom offers a wide variety of actions. In addition to delete and archive, you can also choose chill, which hides selected messages until a later date, or expire, which auto-forwards future emails from the sender to a set folder. You can also check off selected mails to mark as spam or block in future. It's worth noting that some of these features are also possible in email services such as Gmail or Outlook by creating custom rules. (Check out our latest tips for using Gmail here https://www.techlicious.com/tip/5-tips-for-getting-more-out-of-gmail/.)
Mailstrom has a subscription fee of $49.99 a year with a free trial that lets you delete up to 1,234 messages. (When I reached around 500 deleted messages, I was offered a discount on the annual fee to $39.99.)
Supports: IMAP email, including Gmail, Outlook.com, iCloud
Great for: Reaching inbox zero
But: The annual subscription fee of $49.99 may be a touch high if you don't need its unique inbox analysis features.
Overall: This is one of the most comprehensive inbox control apps out there; however, it may offer more features than many users need.
Get it: Mailstrom.co
[Inbox zero image via Shutterstock]