While video captions may have been initially intended for those with hearing impairments, they have evolved into an indispensable tool for everyone. They're a great way to improve your understanding of videos if you can't hear them in noisy environments or to discreetly consume videos without disturbing those around you.
Closed captions started appearing on YouTube videos more than a decade ago, but real-time captioning of videos didn't become a reality for Android phones until 2019 when it launched on the Google Pixel 4. Called Live Caption, the feature is now more widely available and works with most apps that play videos, including Facebook, Instagram, and TikTok. And if you don't want captions all the time, you can easily turn them on and off without leaving the app you're using.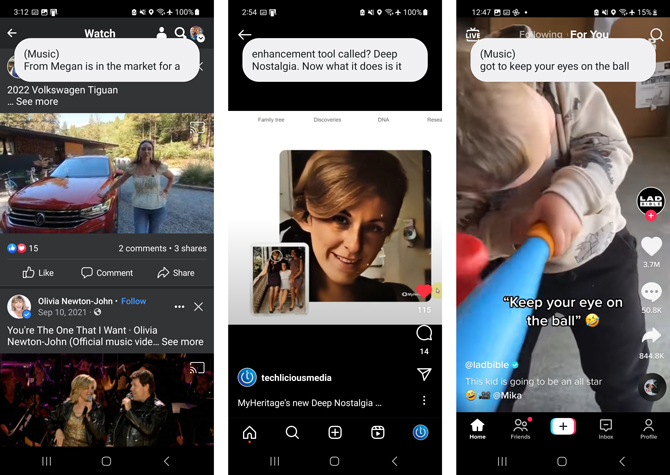 Note that unlike TV subtitles and other professionally generated captions, Live Caption is not perfect; you'll find it works best when words are clearly spoken. And it takes a few seconds before you see the captioning start. So, if you're scrolling through your feed, you'll need to move slowly for the captioning to catch up.
How to enable Live Caption
Live Caption is currently available on many Android phones running Android 10 and higher, including Samsung Galaxy phones and OnePlus phones. Here's how to enable it.
Open Settings.
Tap on the spyglass in the upper right corner and search for "Live Caption."
Select "Live Caption."
Toggle on "Use Live Caption."
Scroll down and toggle on "Live Caption in volume control."
Once you have Live Caption enabled, the captions will appear within a few seconds of the video starting.
How to quickly turn on and off Live Caption
The fastest way to turn off Live Caption is to press-and-hold the bubble where the captions are appearing and swipe it off the bottom of the screen. You can also use your volume buttons as a shortcut to quickly turn captions off and on.
Press the volume up or down button.
If you see the caption icon (see circled below), tap it to turn it on or off.

If you don't see the caption icon, tap the menu icon (the three dots). When opening the menu, you'll see the caption icon, which you can tap to turn on or off.

[Image credit: Suzanne Kantra/Techlicious]
For the past 20+ years, Techlicious founder Suzanne Kantra has been exploring and writing about the world's most exciting and important science and technology issues. Prior to Techlicious, Suzanne was the Technology Editor for Martha Stewart Living Omnimedia and the Senior Technology Editor for Popular Science. Suzanne has been featured on CNN, CBS, and NBC.