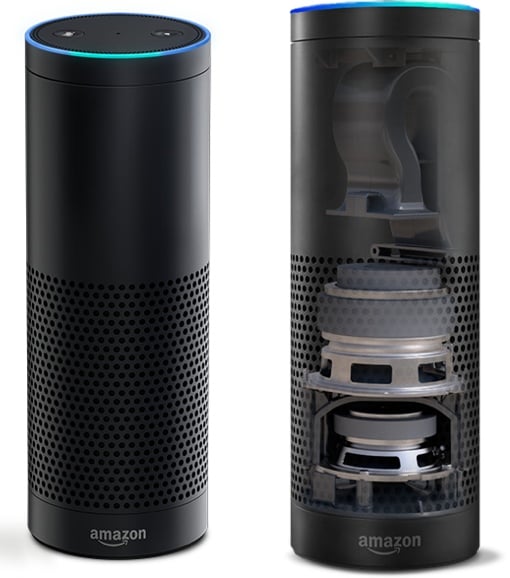 The folks at Amazon today broke new ground, launching a completely brand new type of consumer electronics device. Called the Amazon Echo, it's a Wi-Fi powered cloud speaker device. Think of it as a home speaker with a personal digital assistant like Siri built in.
I would anticipate most people will the Echo for listening to music, podcasts and other similar content. Dual downward-firing speakers (2.5-inch woofer, 2.0-inch tweeter) produce 360-degree sound that'll fill a room no matter where you place it. Just connect your phone or computer to Echo via Bluetooth and the party is ready to begin.
You can use the device to perform most basic verbal smartphone digital assistant commands, even when its playing music. You wake the device by speaking the word "Alexa" and can then ask for the weather forecast, set alarms, create to-do list items, start media playback, ask questions, search Wikipedia and more. Because Echo is cloud-connected, the digital assistant program will improve with time and get new features. It will even learn your speech patterns to better understand what you're saying and improve its accuracy.
The Echo is powered by an AC adapter and measures is 9.25 inches tall and 3.27 inches wide. Each unit comes with a remote with a built-in microphone and smartphone controls. The included Amazon Echo app helps you manage alarms, playlists and music and is available for iOS, Android and on Amazon's own Fire OS.
Since the Echo is a completely new type of device, it's hard to say how its sales will go. Amazon has a lot of marketing power behind it — the Amazon Kindle is extraordinarily popular. But as the Amazon Fire Phone shows, the company is not above making major flops, too. We'll have to see just how high-quality the speakers are to before I can truly judge whether taking ownership is worth it.
Amazon's Echo is not yet available for pre-order. Amazon Prime members can, however, request an invitation to have the first crack at these when they do become available. You'll get a huge discount by participating in the invitation-only launch: The Echo has an MSRP of $199, but Prime members only pay $99. You can watch the video below for more information; to request a pre-order invitation for Echo, visit the Amazon Echo website.