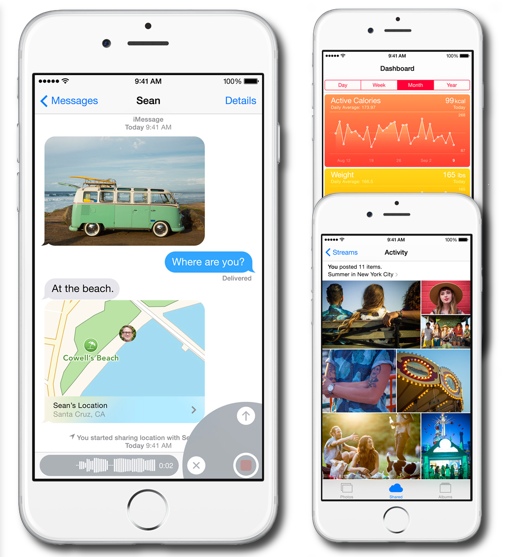 Apple iPhone and iPad owners: It's time to update the software on your devices. After a false, bug-filled start that resulted in iOS 8.0.1 being pulled from Apple servers, the electronics giant has just released iOS 8.0.2 to the public. The download is designed to fix the problems suffered by those who attempted to install iOS 8.0.1, as well as fix a number of other minor issues with the operating system as well.
Apple released a short statement alongside the update, reiterating its earlier apology for the error-filled iOS 8.0.1. "iOS 8.0.2 is now available for users, it fixes an issue that affected iPhone 6 and iPhone 6 Plus users who downloaded iOS 8.0.1, and includes improvements and bug fixes originally in iOS 8.0.1. We apologize for inconveniencing the iPhone 6 and iPhone 6 Plus users who were impacted by the bug in iOS 8.0.1."
Specifically, the update restores iPhone 6 and iPhone 6 Plus owners' access to the data aggregating Health app. It should correct any lingering issues with Touch ID and cellular reception experienced by some who installed (and later attempted to un-install) the ill-fated iOS 8.0.1. The iOS 8.0.2 update also fixes a bug where phones and tablets would occasionally revert from an installed third-party keyboard to the Apple default.
To update your device to iOS 8.0.2, enter the Settings app and tap General. Choose Software Update, and then follow the prompts to accept the agreement and download the patch. You can also connect your device to your PC or Mac via USB and download the patch through iTunes. That method is preferred if you don't have a lot of free space available to your phone, though it's worth noting that this patch is nowhere near the size of the massive iOS 8 installation from last week.
There have been no serious reported issues with iOS 8.0.2 since it was made available 12 to 24 hours ago, so you can download it with confidence that it (probably) won't screw up your new iPhone. For more on the problems experienced with the previous update, check out our coverage of iOS 8.0.1. To learn more about the features the new iOS 8.0.2 patch should fix, take a look at our need-to-know guide to iOS 8.