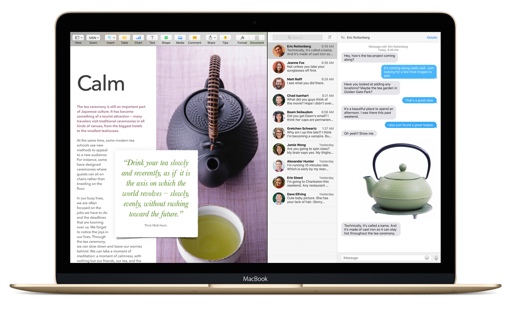 Apple's iOS 9 wasn't the only big news to come out of today's Apple Worldwide Developers Conference 2015 in San Francisco today. The computer giant also unveiled details on OS X El Capitan, the tentative name for the coming version of its Mac operating system. Like with iOS 9, there's no major design overhaul here – just modest improvements and tweaks to programs many of us use regularly.
What's new? Well, for starters, El Capitan is getting better Spotlight Search. This means you can perform both web and local search with natural language, allowing you to quickly learn "what's the weather going to be like tomorrow," or "find the Excel spreadsheet I worked on Friday afternoon." Here, Apple is following the trend of putting a digital assistant on your home computer – Microsoft is doing the same with Cortana and Windows 10 for PCs.
The Safari web browser is getting some upgrades as well. It now alerts you to which of your tabs are making noise with a speaker icon and gives you an option to quickly mute them, just like on Google Chrome. You can also now pin tabs for sites you use regularly by dragging them to the left, allowing them to survive window closings. Any link you click in a pinned tab automatically opens in a new tab, too. I still think you'll be better off running Firefox, but it's good that Apple is improving the default browser for the many of you who prefer using it.
OS X El Capitan also includes a number of performance tweaks. Expect apps to open faster (by 1.4x), with improved speed when switching between apps as well. PDFs open significantly faster in Preview, and email displays faster too. And good news for gamers: The new OS X has big improvements in graphics rendering.
You can expect to see changes to Current Mac owners will be able to upgrade to OS X El Capitan when it is released sometime later this year. Like with past Apple operating system updates, it will be free to all Mac users. You can learn more about El Capitan by checking out its preview on the Apple website.
[Image credit: Apple]